» Win at Games of Chance Main Page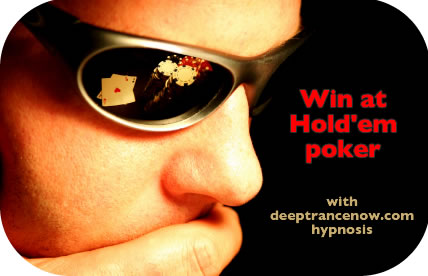 Did you know?
The size of our pupils is affected by our emotions. When we get excited, our pupils dilate, regardless whether our excitement is due to fear or pleasure. So, it is no coincidence that many poker players wear sunglasses. However, as you can see from the image above, wearing sunglasses can have its drawback - while the other players may not be able to check out the size of your pupils, they may be able to see the cards you're holding.
How can Deep Trance Now hypnosis CDs help you to
Win at Texas Hold'Em Poker
Texas Hold'Em Poker is an exciting game where you play, not against the casino, but against other players. In this game, you can win or lose not only based on the cards that you have and how you play, but also based on how well can you read the subtle signals other players unconsciously give away when holding different hands, and on how well can you hide your own. In Neuro-Linguistic Programming, we call these subtle signals "minimal cues".
Win at Texas Hold'Em Poker Hypnosis CD is designed to increase your awareness of the unconscious signals other players give away and hide your own, so you won't have to risk having other players see the cards that you have by checking out your sunglasses.
Beside helping you to read other players' unconscious signals and to hide your own, Win at Hold'Em Poker hypnosis CD will help you to train your intuition so you can be in a better position to decide whether to fold, or call or raise your bet.

Many Texas Hold'Em Poker players have found that repeating affirmations along the lines of "I am lucky" or "I win big at hold'em poker", help them to increase their chances of winning. Win at Texas Hold'Em Hypnosis CD takes you further by helping you to deeply impress that lucky feeling into your emotions, and into your neurology through your subjective experience. What you subjectively experience can be million times more effective than what you simply repeat to yourself verbally.
Win at Hold'Em Poker subliminal, supraliminal and supraliminal plus CDs contain direct suggestion - positive affirmations - for helping you to detect signals in other players, hide your own, increase the power of your intuition, and program your mind with suggestions for luck and financial abundance at a poker table.
Win at Hold'Em Poker subliminal, supraliminal and supraliminal plus CDs do not contain any guided imagery and do not guide you through subjective experience of yourself as a winner, and while they can be very effective on their own and they can draw upon the successful experiences you have already had and which are imprinted upon your subconscious mind, for best results, I suggest that you use these recordings in conjunction with Win at Hold'Em Poker hypnosis recording.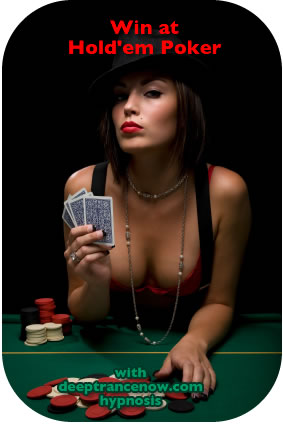 Win at Hold'Em Poker
Deep Trance Now Hypnosis mp3 Downloads and CDs
» Click here to learn more about Different Types of Recordings
» Subscribe to Deep Trance Now Hypnosis Newsletter and listen to Free Downloads
» Click here for information about Mail Order, Shipping or ordering MP3 Downloads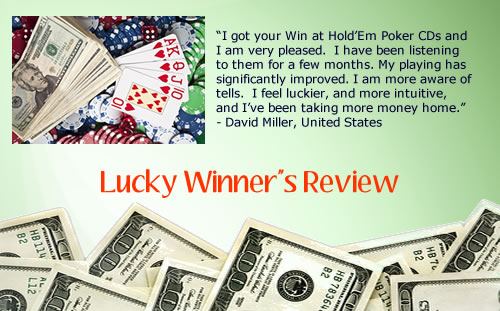 If you want CDs, click on "add to cart" button.
If you want Instant mp3 Downloads,
click on the blue Instant Download link.