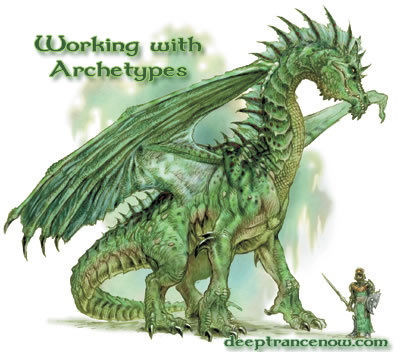 In Jung's terms - 'Archetype' is defined as the first original model of which all other similar persons, objects, or concepts are merely derivative, copied, patterned, or emulated.
Archetypes live within us as living energy imprints, as intelligent forces that pour out of us unceasingly night and day, asleep and awake, influencing everyone in our lives and causing us to be influenced in return. They mold and change our behaviors. They shape the very structure of our lives, but remain invisible to normal consciousness, almost always functioning beneath the level of conscious awareness.
Working with Archetypes hypnosis CD guides you through the process of transforming outer experiences by working with inner archetypes. The process engages "active imagination" and its purpose is to transform your negative unconscious projections, causing in turn the positive transformation of your outer reality and helping you to live a fulfilling life.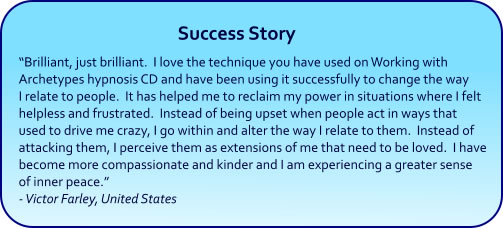 Working with Archetypes
Deep Trance Now Hypnosis CDs and mp3 downloads
» Hypnosis Newsletter and Free Downloads
If you want CDs, click on "add to cart" button.
If you want Instant mp3 Downloads,
click on the blue Instant Download link.

Working with Archetypes
Hypnosis
1 CD - $24.95
For INSTANT DOWNLOAD click here
Working with Archetypes
Hypnosis with Embedded Subliminal Track
1 CD - $29.95
Working with Archetypes
Hypnosis with Embedded Supraliminal Track
1 CD - $34.95
Working with Archetypes
Subliminal with Audible Intro Suggestions
1 CD - $14.95
For INSTANT DOWNLOAD click here
Working with Archetypes
Daytime Silent Subliminal
1 CD - $14.95
Working with Archetypes
Nighttime Silent Subliminal Sleep Programming
1 CD - $14.95
Working with Archetypes
Supraliminal with Audible Intro Suggestions
1 CD - $19.95
Working with Archetypes
Daytime Silent Supraliminal
1 CD - $19.95
Working with Archetypes
Nighttime Silent Supraliminal Sleep Programming
1 CD - $19.95
Working with Archetypes
Empowering Affirmations
1 CD - $17.95
Working with Archetypes
Empowering Affirmations with Embedded Subliminal Track
1 CD - $22.95
Working with Archetypes
Empowering Affirmations with Embedded Subliminal and Supraliminal Tracks
1 CD - $27.95
Working with Archetypes
Supraliminal Plus
1 CD - $24.95
For INSTANT DOWNLOAD click here
Working with Archetypes
Hypnosis + Subliminal
2 CDs - $29.95
Working with Archetypes
Hypnosis + Supraliminal
2 CDs - $34.95
Working with Archetypes
Hypnosis + Supraliminal Plus
2 CDs - $39.95
Working with Archetypes
Hypnosis + Subliminal + Supraliminal Plus
3 CDs - $49.95
Working with Archetypes
Hypnosis + Supraliminal + Supraliminal Plus
3 CDs - $54.95
Working with Archetypes
Hypnosis + Subliminal + Supraliminal + Supraliminal Plus
4 CDs - $64.95
Working with Archetypes
Hypnosis + Empowering Affirmations + Subliminal + Supraliminal + Supraliminal Plus
5 CDs - $79.95