» Win at Games of Chance Main Page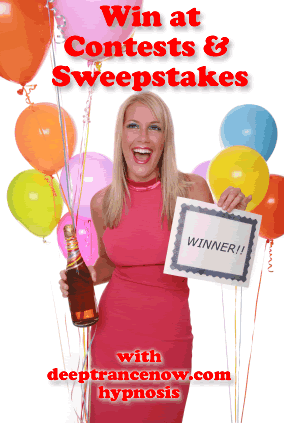 You can use Win the Contests CDs to win both at Contests and sweepstakes. Win the Contests hypnosis CD guides you through the process that has been used by people who consistently win game after game after game. Some call it "Name it and Claim it game". All you got to do is decide what you want to win and Deep Trance Now hypnosis program will help you to program your subconscious mind, and establish the resonance with that which you desire to win, so that through the law of attraction you will draw it to you.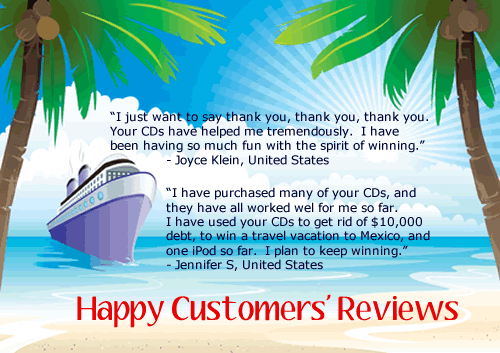 For best results work with hypnosis recording once a day, and then you can have subliminal, supraliminal or supraliminal recording playing in the background while you are doing other things throughout the day.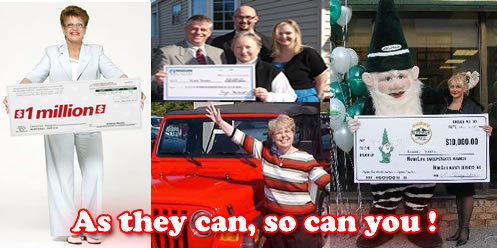 Win Contests
Deep Trance Now Hypnosis CDs and mp3 downloads
» Click here to learn more about Different Types of Recordings
» Subscribe to Deep Trance Now Hypnosis Newsletter and listen to Free Downloads
» Click here for information about Mail Order, Shipping or ordering MP3 Downloads
If you want CDs, click on "add to cart" button.
If you want Instant mp3 Downloads,
click on the blue Instant Download link.

Win Contests
Hypnosis
1 CD - $24.95
For INSTANT DOWNLOAD click here
Win Contests Hypnosis with Embedded Subliminal Track
1 CD - $29.95
Win Contests Hypnosis with Embedded Supraliminal Track
1 CD - $34.95
Win Contests Subliminal with Audible Intro Suggestions
1 CD - $14.95
For INSTANT DOWNLOAD click here
Win Contests Daytime Silent Subliminal
1 CD - $14.95
Win Contests Nighttime Silent Subliminal Sleep Programming
1 CD - $14.95
Win Contests Supraliminal with Audible Intro Suggestions
1 CD - $19.95
For INSTANT DOWNLOAD click here
Win Contests Daytime Silent Supraliminal
1 CD - $19.95
Win Contests Nighttime Silent Supraliminal Sleep Programming
1 CD - $19.95
Win Contests Empowering Affirmations
1 CD - $17.95
Win Contests Empowering Affirmations with Embedded Subliminal Track
1 CD - $22.95
Win Contests Empowering Affirmations with Embedded Subliminal and Supraliminal Tracks
1 CD - $27.95
Win Contests Supraliminal Plus
1 CD - $24.95
For INSTANT DOWNLOAD click here
Win Contests Hypnosis + Subliminal
2 CDs - $29.95
Win Contests Hypnosis + Supraliminal
2 CDs - $34.95
Win Contests Hypnosis + Supraliminal Plus
2 CDs - $39.95
Win Contests Hypnosis + Subliminal + Supraliminal Plus
3 CDs - $49.95
Win Contests Hypnosis + Supraliminal + Supraliminal Plus
3 CDs - $54.95
Win Contests
Hypnosis + Subliminal + Supraliminal + Supraliminal Plus
4 CDs - $64.95
Win Contests
Hypnosis + Empowering Affirmations + Subliminal + Supraliminal + Supraliminal Plus
5 CDs - $79.95