» Win at Games of Chance Main Page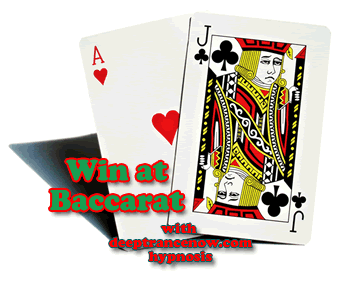 Baccarat is primarily a game of chance. To increase their chance of winning, people sometimes observe the flow of cards and whether the "banker" or the "player" side came more often and what are the chances that the "tie" may be coming next.
Some systems focus on doubling the winning bets, others focus on doubling the losing bets - to increase the chances of winning or at least breaking even.
Win at Baccarat CDs may help you intuit what is coming next and what should you bet; to establish a clear system of communication with your unconscious (all-knowing mind) and to program your subconscious mind for luck and abundance.

Win at Baccarat
Deep Trance Now Hypnosis CDs and mp3 downloads
» Hypnosis Newsletter and Free Downloads
If you want CDs, click on "add to cart" button.
If you want Instant mp3 Downloads,
click on the blue Instant Download link.

Win at Baccarat
Hypnosis
1 CD - $24.95
For INSTANT DOWNLOAD click here
Win at Baccarat
Hypnosis with Embedded Subliminal Track
1 CD - $29.95
Win at Baccarat
Hypnosis with Embedded Supraliminal Track
1 CD - $34.95
Win at Baccarat
Subliminal with Audible Intro Suggestions
1 CD - $14.95
For INSTANT DOWNLOAD click here
Win at Baccarat
Daytime Silent Subliminal
1 CD - $14.95
Win at Baccarat
Nighttime Silent Subliminal Sleep Programming
1 CD - $14.95
Win at Baccarat
Supraliminal with Audible Intro Suggestions
1 CD - $19.95
For INSTANT DOWNLOAD click here
Win at Baccarat
Daytime Silent Supraliminal
1 CD - $19.95
Win at Baccarat
Nighttime Silent Supraliminal Sleep Programming
1 CD - $19.95
Win at Baccarat
Empowering Affirmations
1 CD - $17.95
Win at Baccarat
Empowering Affirmations with Embedded Subliminal Track
1 CD - $22.95
Win at Baccarat
Empowering Affirmations with Embedded Subliminal and Supraliminal Tracks
1 CD - $27.95
Win at Baccarat
Supraliminal Plus
1 CD - $24.95
For INSTANT DOWNLOAD click here
Win at Baccarat
Hypnosis + Subliminal
2 CDs - $29.95
Win at Baccarat
Hypnosis + Supraliminal
2 CDs - $34.95
Win at Baccarat
Hypnosis + Supraliminal Plus
2 CDs - $39.95
Win at Baccarat
Hypnosis + Subliminal + Supraliminal Plus
3 CDs - $49.95
Win at Baccarat
Hypnosis + Supraliminal + Supraliminal Plus
3 CDs - $54.95
Win at Baccarat
Hypnosis + Subliminal + Supraliminal + Supraliminal Plus
4 CDs - $64.95
Win at Baccarat
Hypnosis + Empowering Affirmations + Subliminal + Supraliminal + Supraliminal Plus
5 CDs - $79.95