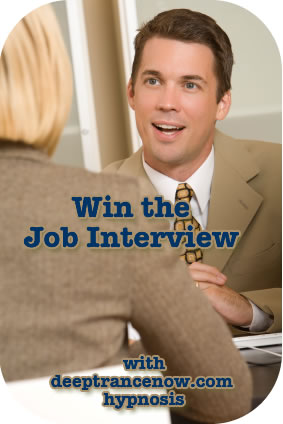 Now, you can get the job you really want. This set of CDs is designed to help you to prepare for the job interview, establish rapport with your interviewer, enchant your interviewer with a few well-chosen NLP techniques, and win the interview.
For best results work with Win the Job Interview hypnosis CD once a day, and then listen to subliminal, supraliminal or supraliminal plus recording throughout the day. You can have Win the Job interview subliminal, supraliminal or supraliminal plus recordings playing in the background while you are doing other things.

Winning Job Interview
Deep Trance Now Hypnosis Programs
» Hypnosis Newsletter and Free Downloads
If you want CDs, click on "add to cart" button.
If you want Instant mp3 Downloads,
click on the blue Instant Download link.

» You may also like other CDs from the Financial Wealth collection