Get Slim, Trim, and Fit Using the
Amazing Power of Your Subconscious Mind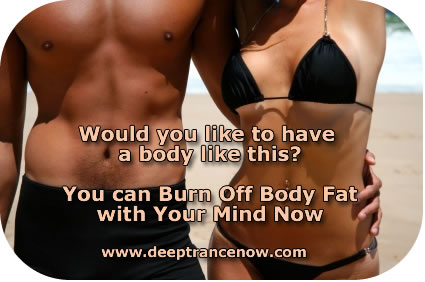 You want ...
You want to get rid of the fat you don't need on your body. You know that having a slimmer body would make you look and feel better. And you know that your body would be healthier. You could even do things you weren't able to do before.
Your self-esteem and your confidence level may soar. Your risk of debilitating health problems and diseases may reduce significantly, even vanish.
Did you know?
Adults over 35 years of age with BMI (body mass index) over 30 are considered obese.
Obesity can lead to high blood pressure, diabetes, heart disease and other chronic illnesses.
Even a small weight loss of 5 - 10% can lower blood pressure and reduce the risk of diabetes, heart disease and other illnesses.
Why does it seem so hard to lose weight?
Among people who have been struggling with weight loss:
69% believe it's due to lack of exercise
62% attribute their struggles to slower metabolism
62% say the snack too much
50% blame it on the lack of self-discipline
49% overindulge in food during regular meals
What works?
If you have already tried dieting and you got rid of few pounds only to gain back all that you lost and pile on few extra pounds, you are not alone. Most people who diet regain all the weight back.
Dieting obviously doesn't work in the long run. What works are smaller lifestyle changes, development of new healthy habits you can comfortably maintain for the rest of your life.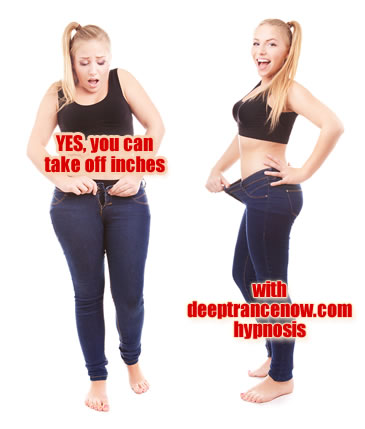 "I've been struggling with weight for many years, never used hypnosis before, and I was surprised to discover I've developed liking for veggies, and have lost 18 lbs in 2 months." - Maria Perez
"I have lost 33 pounds and 5 inches from my waist since I started listening to your Weight Loss CDs. They are totally amazing. I recommend them to all my friends." - David Jones
"I am so excited to tell you that I went from size 12 to size 4 over the past 6 months. I can't thank you enough for helping me to have the body I am happy with." - Marlene Simon
"I lost inches of my waist. I lost inches of my thighs. I lost inches of my arms. I lost fat while toning my body. I went shopping for new clothes. Now I can wear a bikini! - Joanna Givens
How can hypnosis and affirmations
help you to lose weight
easily, effortlessly, naturally?
Hypnosis can help you to lose weight easily and effortlessly because it's your subconscious mind that does all the hard work. You can say good-bye to will-power, or to struggle. Instead, just program your subconscious mind with your ideal weight and let its power turn your body into a "fat-burning machine".
You already know that people who have high metabolism can eat anything and remain slim. You don't need to know how to turn up your metabolism, but your subconscious knows - you just have to program it the right way.
With Deep Trance Now hypnosis CDs and mp3s you can:
Activate your super-metabolism and melt all the fat your body doesn't need
Transform unhealthy food cravings
Develop an urge to exercise
Stop feeling hungry and start feeling full with less food or even while fasting
Maintain the ideal weight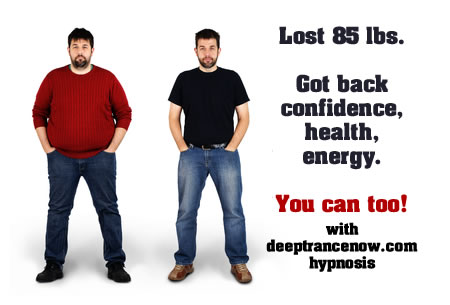 Can you imagine losing weight now
just the way that works for you?
You have a choice in how you choose to program your subconscious mind.
You can program your subconscious mind with hypnosis CDs or downloads by listening to guided imagery while you're relaxed.
You can program your subconscious mind with your ideal weight with subliminal, supraliminal or supraliminal plus CDs and mp3s while you're going about your business during the day, watching TV, sitting behind a computer, going to the gym or taking care of your family.
You can also lose weight while you sleep by listening to Weight Loss night-time sleep programming.
Weight Loss
Deep Trance Now Hypnosis CDs and mp3 downloads
» Hypnosis Newsletter and Free Downloads
If you want CDs, click on "add to cart" button.
If you want Instant mp3 Downloads,
click on the blue Instant Download link.