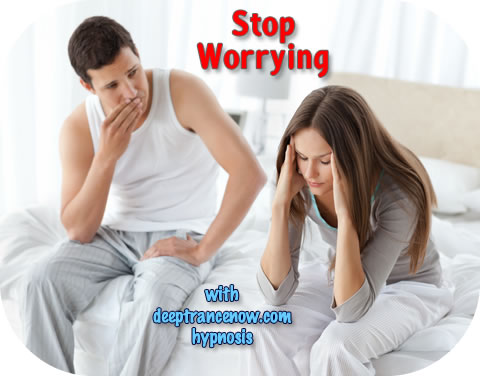 Most people worry about something sometimes. When you worry, you are imagining an undesirable scenario taking place in your life. If that imagery inspires you and motivates you to take a constructive action and avoid a potential problem, then it may have served a useful purpose. However, if you are fixated on imagining dismal scenarios to the point that you are feeling stuck in a worrying state, it can have a detrimental effect on your health and on your life in general.
People worry about different things. Sometimes they worry about an existing challenge which they need to deal with, like pay a rent or deal with a financial debt, but may feel stuck because they don't have enough money. Sometimes people worry about their health because they work in toxic environments. Or people who have committed adultery worry whether their spouse will find out.
Sometimes people worry about imaginary and non-existing problems, as in what will they do if they got something (desirable or undesirable) which they do not currently even have - as in "If I won the lottery, will someone attempt to rob me or kill me?"
Sometimes people worry about unforeseen circumstances. In that scenario the problem doesn't exist, but the problem may or may not happen. Some examples of this may be "Will it rain if I go on a picnic?", "Will something go wrong during the performance?", "Will I get rejected if I approach that woman and ask her out?"

Sometimes people worry about illnesses and diseases they may or may not develop, and sometimes they worry about possible calamities and natural disasters that may or may not happen.
In some situations people have committed errors and need to deal with the consequences of their actions. In other situations, they may assess the situation and do their best to protect themselves from potentially dismal events, and yet in other situation there may not be much that they can do outwardly, but inwardly they can manage their mental and emotional states.
While it may be useful being aware of all possible scenarios that a situation may play out and being prepared for as many as you can, dwelling on negative scenarios may tend to attract them into your life.
Stop Worrying program is designed to help you to clear your mind from worries and then consider the best actions that you can take. The recordings also contain suggestions for safety, protection, peace, inner guidance and wisdom, and look upon the brighter side of life.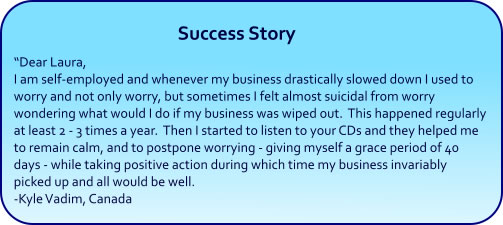 Stop Worrying
Deep Trance Now Hypnosis CDs and mp3 downloads
» Hypnosis Newsletter and Free Downloads
If you want CDs, click on "add to cart" button.
If you want Instant mp3 Downloads,
click on the blue Instant Download link.