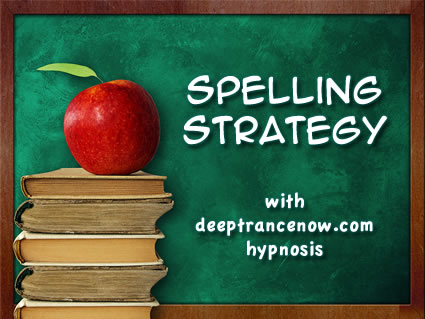 If you are having difficulty with spelling words, this Spelling Strategy from Neuro-Linguistic Programming can help you to spell easily.
The popular phonetic system for spelling doesn't work with English language because in English, you can pronounce a group of letters in many different ways, and you can also encounter many words which are pronounced the same way, but are spelled differently and, of course, have different meaning - and even though there are some general rules, often you'll have to check each words separately.
There is however, a method, an excellent strategy for mastering spelling which will help you to spell English words correctly without any further grief and confusion. The difference between those people who can spell effortlessly and those who are having trouble is that the first are using these techniques either consciously or unconsciously, while the latter still have to figure it out. You can say good-bye to all of your spelling challenges with Spelling Strategy Hypnosis program.
Spelling Strategy Hypnosis program will guide you through an NLP spelling strategy technique. It will also point out some common spelling stumbling blocks.
Subliminal and supraliminal programs are designed to impress suggestions for spelling directly upon your subconscious mind.
Spelling Strategy
Deep Trance Now Hypnosis CDs and mp3 downloads
» Click here to learn more about Different Types of Recordings
» Subscribe to Deep Trance Now Hypnosis Newsletter and listen to Free Downloads
» Click here for information about Mail Order, Shipping or ordering MP3 Downloads
If you want CDs, click on "add to cart" button.
If you want Instant mp3 Downloads,
click on the blue Instant Download link.
Spelling Strategy
Hypnosis
1 CD - $24.95
For INSTANT DOWNLOAD click here
Spelling Strategy
Hypnosis with Embedded Subliminal Track
1 CD - $29.95
Spelling Strategy
Hypnosis with Embedded Supraliminal Track
1 CD - $34.95
Spelling Strategy
Subliminal with Audible Intro Suggestions
1 CD - $14.95
For INSTANT DOWNLOAD click here
Spelling Strategy
Daytime Silent Subliminal
1 CD - $14.95
Spelling Strategy
Nighttime Silent Subliminal Sleep Programming
1 CD - $14.95
Spelling Strategy
Supraliminal with Audible Intro Suggestions
1 CD - $19.95
For INSTANT DOWNLOAD click here
Spelling Strategy
Daytime Silent Supraliminal
1 CD - $19.95
Spelling Strategy
Nighttime Silent Supraliminal Sleep Programming
1 CD - $19.95
Spelling Strategy
Empowering Affirmations
1 CD - $17.95
Spelling Strategy
Empowering Affirmations with Embedded Subliminal Track
1 CD - $22.95
Spelling Strategy
Empowering Affirmations with Embedded Subliminal and Supraliminal Tracks
1 CD - $27.95
Spelling Strategy
Supraliminal Plus
1 CD - $24.95
For INSTANT DOWNLOAD click here
Spelling Strategy
Hypnosis + Subliminal
2 CDs - $29.95
Spelling Strategy
Hypnosis + Supraliminal
2 CDs - $34.95
Spelling Strategy
Hypnosis + Supraliminal Plus
2 CDs - $39.95
Spelling Strategy
Hypnosis + Subliminal + Supraliminal Plus
3 CDs - $49.95
Spelling Strategy
Hypnosis + Supraliminal + Supraliminal Plus
3 CDs - $54.95
Spelling Strategy
Hypnosis + Subliminal + Supraliminal + Supraliminal Plus
4 CDs - $64.95
Spelling Strategy
Hypnosis + Empowering Affirmations + Subliminal + Supraliminal + Supraliminal Plus
5 CDs - $79.95
» Click here for the listing of all Deep Trance Now hypnosis CDs and mp3 downloads