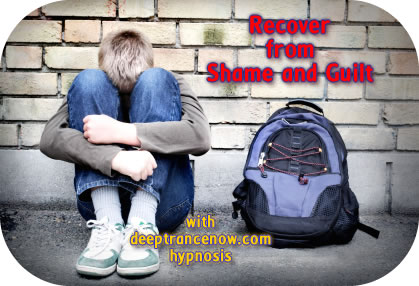 Most people have some experience of shame in their past which they don't like to discuss with others. That's what shame is all about. Shame is a response to violating someone else's standards. When we feel shame, we are usually afraid of rejection or abandonment due to this transgression of real or imagined external standards.
Ideally, shame alerts us that we have offended other people, and that if we want to maintain friendly relationship with them, we may need to change our behavior. However, for many people the agonizing feelings of shame just make them feel like an unworthy person.
Although guilt is similar to shame, there are some important differences. The experience of shame often doesn't have much information about what a person did wrong, or how it harmed others. Guilt, however, always includes some representation of how what you did has harmed others, often including how they will be harmed in the future. Guilt is a feeling response to violating your own standards, while shame involves violating the standards of others.
Recover From Shame and Guilt Deep Trance Now Hypnosis Programs
» Hypnosis Newsletter and Free Downloads
If you want CDs, click on "add to cart" button.
If you want Instant mp3 Downloads,
click on the blue Instant Download link.
Recover From Shame and Guilt
Hypnosis
1 CD - $24.95
For INSTANT DOWNLOAD click here
Recover From Shame and Guilt
Hypnosis with Embedded Subliminal Track
1 CD - $29.95
Recover From Shame and Guilt
Hypnosis with Embedded Supraliminal Track
1 CD - $34.95
Recover From Shame and Guilt
Subliminal with Audible Intro Suggestions
1 CD - $14.95
Recover From Shame and Guilt
Daytime Silent Subliminal
1 CD - $14.95
Recover From Shame and Guilt
Nighttime Silent Subliminal Sleep Programming
1 CD - $14.95
Recover From Shame and Guilt
Supraliminal with Audible Intro Suggestions
1 CD - $19.95
Recover From Shame and Guilt
Daytime Silent Supraliminal
1 CD - $19.95
Recover From Shame and Guilt
Nighttime Silent Supraliminal Sleep Programming
1 CD - $19.95
Recover From Shame and Guilt
Empowering Affirmations
1 CD - $17.95
Recover From Shame and Guilt
Empowering Affirmations with Embedded Subliminal Track
1 CD - $22.95
Recover From Shame and Guilt
Empowering Affirmations with Embedded Subliminal and Supraliminal Tracks
1 CD - $27.95
Recover From Shame and Guilt
Supraliminal Plus
1 CD - $24.95
For INSTANT DOWNLOAD click here
Recover From Shame and Guilt
Hypnosis + Subliminal
2 CDs - $29.95
Recover From Shame and Guilt
Hypnosis + Supraliminal
2 CDs - $34.95
Recover From Shame and Guilt
Hypnosis + Supraliminal Plus
2 CDs - $39.95
Recover From Shame and Guilt
Hypnosis + Subliminal + Supraliminal Plus
3 CDs - $49.95
Recover From Shame and Guilt
Hypnosis + Supraliminal + Supraliminal Plus
3 CDs - $54.95
Recover From Shame and Guilt
Hypnosis + Subliminal + Supraliminal + Supraliminal Plus
4 CDs - $64.95
Recover From Shame and Guilt
Hypnosis + Empowering Affirmations + Subliminal + Supraliminal + Supraliminal Plus
5 CDs - $79.95