When the body is viewed from behind, a normal spine appears straight without much deviation from side-to-side. However if the spine is observed to have a lateral or side-to-side curvature, the person might have a condition called scoliosis. This disorder often gives the appearance of the person leaning to one side though it should not be confused with poor posture.
Scoliosis is a complicated deformity that is characterized by both lateral curvature and rotation of the vertebra often causing a characteristic rib hump in the mid or thoracic spine. This is caused by the vertebrae in the area of the major curve rotating toward the concavity and pushing their attached ribs posterior causing the characteristic rib hump seen in thoracic scoliosis. If the thoracic curve and rib rotation is severe, greater than 70 degrees, pulmonary and cardiac function can be impeded.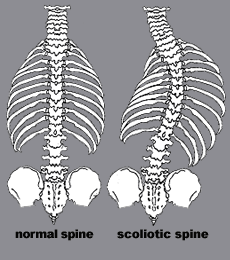 This set of CDs is designed to help with straightening the spine due to scoliosis. These CDs are not designed to replace medical treatment. Several people who have been working with these CDs when nothing else seemed to work, reported improvements within few months of listening to these recordings.
Scoliosis
Deep Trance Now Hypnosis CDs and mp3 downloads
» Click here to learn more about Different Types of Recordings
» Subscribe to Deep Trance Now Hypnosis Newsletter and listen to Free Downloads
» Click here for information about Mail Order, Shipping or ordering MP3 Downloads
If you want CDs, click on "add to cart" button.
If you want Instant mp3 Downloads,
click on the blue Instant Download link.