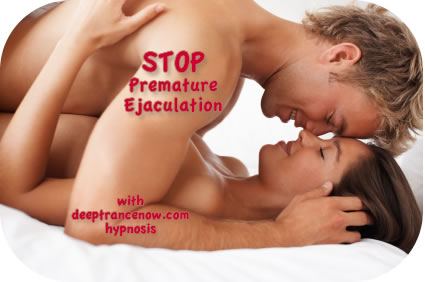 Premature ejaculation (PE) is a condition where a man ejaculates earlier than he or his partner would like him to. Premature ejaculation is also known as rapid ejaculation, rapid climax, premature climax, or early ejaculation.
Masters and Johnson defines PE as the condition where a man ejaculates before his sex partner achieves orgasm, in more than fifty percent of their sexual encounters. Other sex researchers have defined premature ejaculation as occurring if the man ejaculates within two minutes of penetration; however, a survey by Alfred Kinsey in the 1950s demonstrated that three quarters of men ejaculate within two minutes of penetration in over half of their sexual encounters.
Self reported surveys report up to 75% of men ejaculate within 10 minutes of penetration. Today, most sex therapists understand premature ejaculation as occurring when a lack of ejaculatory control interferes with sexual or emotional well-being in one or both partners.
Most men experience premature ejaculation at least once in their lives. PE affects 25%-40% of men in the United States. Because there is great variability in both how long it takes men to ejaculate and how long both partners want sex to last, researchers have begun to form a quantitative definition of premature ejaculation. Current evidence supports an average intravaginal ejaculation latency time (IELT) of six and a half minutes in 18-30 year olds. If the disorder is defined as an IELT percentile below 2.5, then premature ejaculation could be suggested by an IELT of less than about one and a half minutes. Nevertheless, men with IELTs below 1.5 minutes could be "happy" with their performance and do not report a lack of control and therefore would not be defined as having PE. On the other hand, a man with 2 minutes IELT may have the perception of poor control over his ejaculation, distressed about his condition, has interpersonal difficulties and therefore be diagnosed with PE.
For Men Who Want To Last Longer in Bed Tonight
Stop Premature Ejaculation hypnosis CD guides you through variety of techniques that can help you to train yourself to last longer tonight. Many men swear by the effectiveness of these techniques and while the recording guides you through variety of techniques you may enjoy experimenting with, some of these techniques are highly likely to help you get even instant results.
Stop Premature Ejaculation subliminal, supraliminal and supraliminal plus CDs contain supporting direct suggestions to reinforce the ideas and techniques from the hypnosis recording. While Stop Premature Ejaculation subliminal, supraliminal and supraliminal plus CDs may very well.
Premature Ejaculation Deep Trance Now Hypnosis Programs
» Click here to learn more about Different Types of Recordings
» Subscribe to Deep Trance Now Hypnosis Newsletter and listen to Free Downloads
» Click here for information about Mail Order, Shipping or ordering MP3 Downloads
If you want CDs, click on "add to cart" button.
If you want Instant mp3 Downloads,
click on the blue Instant Download link.
Stop Premature Ejaculation
Hypnosis
1 CD - $24.95
For INSTANT DOWNLOAD click here
Stop Premature Ejaculation
Hypnosis with Embedded Subliminal Track
1 CD - $29.95
Stop Premature Ejaculation
Hypnosis with Embedded Supraliminal Track
1 CD - $34.95
Stop Premature Ejaculation
Subliminal with Audible Intro Suggestions
1 CD - $14.95
For INSTANT DOWNLOAD click here
Stop Premature Ejaculation
Daytime Silent Subliminal
1 CD - $14.95
Stop Premature Ejaculation
Nighttime Silent Subliminal Sleep Programming
1 CD - $14.95
For INSTANT DOWNLOAD click here
Stop Premature Ejaculation
Supraliminal with Audible Intro Suggestions
1 CD - $19.95
For INSTANT DOWNLOAD click here
Stop Premature Ejaculation
Daytime Silent Supraliminal
1 CD - $19.95
Stop Premature Ejaculation
Nighttime Silent Supraliminal Sleep Programming
1 CD - $19.95
For INSTANT DOWNLOAD click here
Stop Premature Ejaculation
Empowering Affirmations
1 CD - $17.95
Stop Premature Ejaculation
Empowering Affirmations with Embedded Subliminal Track
1 CD - $22.95
Stop Premature Ejaculation
Empowering Affirmations with Embedded Subliminal and Supraliminal Tracks
1 CD - $27.95
Stop Premature Ejaculation
Supraliminal Plus
1 CD - $24.95
For INSTANT DOWNLOAD click here
Stop Premature Ejaculation
Hypnosis + Subliminal
2 CDs - $29.95
Stop Premature Ejaculation
Hypnosis + Supraliminal
2 CDs - $34.95
Stop Premature Ejaculation
Hypnosis + Supraliminal Plus
2 CDs - $39.95
Stop Premature Ejaculation
Hypnosis + Subliminal + Supraliminal Plus
3 CDs - $49.95
Stop Premature Ejaculation
Hypnosis + Supraliminal + Supraliminal Plus
3 CDs - $54.95
Stop Premature Ejaculation
Hypnosis + Subliminal + Supraliminal + Supraliminal Plus
4 CDs - $64.95
Stop Premature Ejaculation
Hypnosis + Empowering Affirmations + Subliminal + Supraliminal + Supraliminal Plus
5 CDs - $79.95
» Click here for the listing of all Deep Trance Now hypnosis CDs and mp3 downloads