Become Irresistibly Magnetic
to Every Good Thing You Desire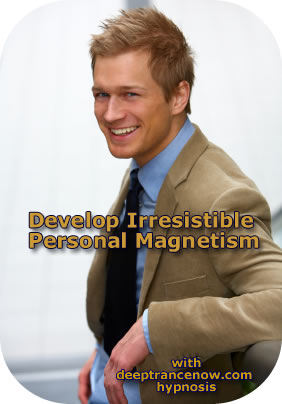 When we are around irresistibly magnetic people we feel wonderful, we feel inspired.We feel attracted to them because they are enthusiastic about life; they have a vision, they have confidence in what they are saying and doing, they are energetic.We are aware of their power, yet there is also a lightness of being, a childlike qualities of playfulness, openness and curiosity.They are spontaneous and fun-loving. They live their lives without struggle and burdens, they don't have to chase after things - whatever they desire flows to them effortlessly.
They are genuinely interested in us and they know how to connect with us on a deeper level, touching us at a core of our being, making us feel more alive,motivating us to grow, to actualize more of our own potential.
Personal Magnetism Program will open the doors to new opportunities in your life. You can use the techniques presented on these recordings whether the people you desire to influence are physically present or you wish to use remote influence. You can use it to bring new friends into your life or more clients. You can use it to bring new opportunities into your personal or professional life. You can use it to attract into your life people, things, or circumstances that will contribute to greater enjoyment of your life.
With Personal Magnetism Program you can:
Increase Your Popularity
Attract People, Things and Circumstances That Build You Up
Protect Yourself From People Who Sap Away Your Energy
Boost Self-Confidence
Build Personal and Professional Networks
Manage Social Situations
Move Toward Success in All Areas of Your Life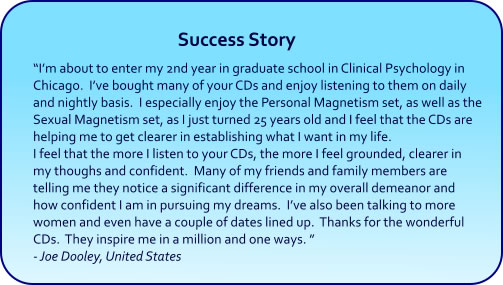 Personal Magnetism Hypnosis Program consists of 4 self-hypnosis CDs, 3 of which are designed to draw desired people, things, or circumstances into your life, and one is designed to help you keep away that which you'd rather have stay away from your life. The fourth recording will also protect you from any kind of psychic attack, as well as form the so called "energy" or "psychic" vampires - in other words people who sap sap away your energy, people who leave you feeling drained and tired.
Subliminal, supraliminal, and supraliminal plus recordings contain direct suggestions designed to help you draw into your life people, things and circumstances you desire. Even though you can get great results working only with subliminal, supraliminal or supraliminal plus recordings, for best results, I recommnd that you also work with Personal Magnetism hypnosis recordings, because they will guide you through specific techniques and guided imagery that will enable you to experience rapid, sometimes even instantaneous results.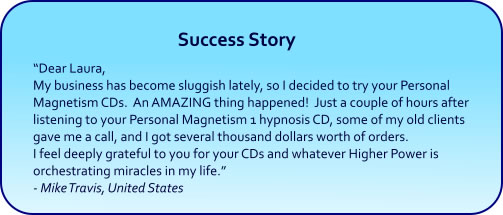 Personal Magnetism
Deep Trance Now Hypnosis CDs and mp3 downloads
» Hypnosis Newsletter and Free Downloads
If you want CDs, click on "add to cart" button.
If you want Instant mp3 Downloads,
click on the blue Instant Download link.