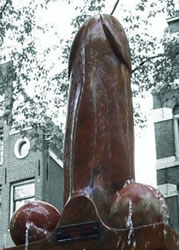 This monumental piece of art is in Amsterdam,
in front of a sex theatre.
Man has been obsessed with penis and phallic symbols throughout history. While by some considered primarily a symbol of lust, for others it represents the primordial force, the creative power of the universe. In that light, in some spiritual traditions it is worshipped as a symbol of life-force from which everything is created.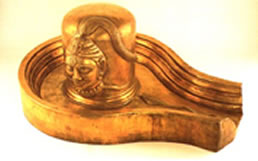 Shiva lingham (penis) representing creative power of consciousness and energy.
In Taoist Esoteric practices both men and women fight for its liquid essence, because they see it as a source of energy, life-force that can preserve, heal and rejuvenate one's body. Male practitioners learn how to have orgasms without ejaculating. they learn how to preserve and transmute this life-giving essence. Female practitioners of White Tigress denomination learn how to take it from men so that they can use it for their own healing, rejuvenation and spiritual growth.
In Taoism and in Tantra, there are also practices for penis enlargement.
Penis Enlargement recordings guide you through the process of stimulating the growth of your penis through your mind-body connection.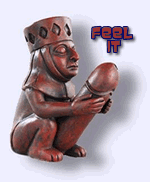 10 CD set contains hypnosis, subliminal, supraliminal and supraliminal plus recordings that will guide you through changing the blueprint of your penis in your subconscious mind as well as in your DNA, taking you through different techniques which will allow you to reprogram the way your penis grew from the time your body was becoming formed. The set also contains Sacred Sex Collection of over 1000 pages of Tantric texts.

Penis Enlargement
Deep Trance Now Hypnosis CDs and mp3 downloads
» Hypnosis Newsletter and Free Downloads
If you want CDs, click on "add to cart" button.
If you want Instant mp3 Downloads,
click on the blue Instant Download link.