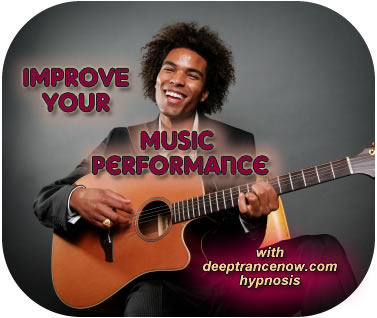 Enhance Your Music Performance Deep Trance Hypnosis Program is designed to help you perform in the best way possible, to feel confident when performing and to become recognized as a musician.
"Music has been my playmate, my lover, and my crying towel."
- Buffy Sainte-Marie
If you are just learning to sing or play an instrument, this recording may help you to master your craft faster, although you can use this recording in conjunction with New History Generator Program for even better results when developing mastery whether you are singing or playing an instrument - solo or with a music band.
"Music is the mediator between the spiritual and the sensual life."
- Ludwig van Beethoven
Music Performance Deep Trance Now Hypnosis Programs
» Hypnosis Newsletter and Free Downloads
If you want CDs, click on "add to cart" button.
If you want Instant mp3 Downloads,
click on the blue Instant Download link.

Music Performance
Hypnosis
1 CD - $24.95
For INSTANT DOWNLOAD click here
Music Performance
Hypnosis with Embedded Subliminal Track
1 CD - $29.95
Music Performance
Hypnosis with Embedded Supraliminal Track
1 CD - $34.95
Music Performance
Subliminal with Audible Intro Suggestions
1 CD - $14.95
For INSTANT DOWNLOAD click here
Music Performance
Daytime Silent Subliminal
1 CD - $14.95
For INSTANT DOWNLOAD click here
Music Performance
Nighttime Silent Subliminal Sleep Programming
1 CD - $14.95
For INSTANT DOWNLOAD click here
Music Performance
Supraliminal with Audible Intro Suggestions
1 CD - $19.95
For INSTANT DOWNLOAD click here
Music Performance
Daytime Silent Supraliminal
1 CD - $19.95
For INSTANT DOWNLOAD click here
Music Performance
Nighttime Silent Supraliminal Sleep Programming
1 CD - $19.95
For INSTANT DOWNLOAD click here
Music Performance
Empowering Affirmations
1 CD - $17.95
Music Performance
Empowering Affirmations with Embedded Subliminal Track
1 CD - $22.95
Music Performance
Empowering Affirmations with Embedded Subliminal and Supraliminal Tracks
1 CD - $27.95
For INSTANT DOWNLOAD click here
Music Performance
Supraliminal Plus
1 CD - $24.95
For INSTANT DOWNLOAD click here
Music Performance
Hypnosis + Subliminal
2 CDs - $29.95
Music Performance
Hypnosis + Supraliminal
2 CDs - $34.95
Music Performance
Hypnosis + Supraliminal Plus
2 CDs - $39.95
Music Performance
Hypnosis + Subliminal + Supraliminal Plus
3 CDs - $49.95
Music Performance
Hypnosis + Supraliminal + Supraliminal Plus
3 CDs - $54.95
Music Performance
Hypnosis + Subliminal + Supraliminal + Supraliminal Plus
4 CDs - $64.95
Music Performance
Hypnosis + Empowering Affirmations + Subliminal + Supraliminal + Supraliminal Plus
5 CDs - $79.95
»All Hypnosis CDs and mp3 Titles