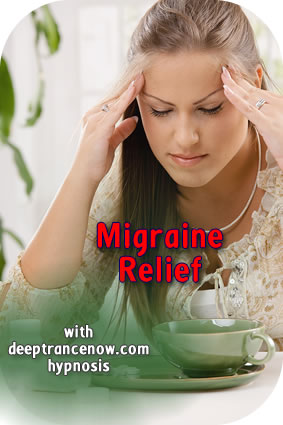 Migraine is a type of recurring headache that involves blood vessels, nerves, and brain chemicals. Sensations such as visual changes, called auras, may precede a migraine.
The International Headache Society developed a system that classifies migraines as one of two types: migraine occurring with an aura (formerly called "classic"), and migraine occurring without an aura (formerly called "common"). People suffering from migraines may experience a migraine several times a week or once every couple of years. Migraines may be so severe that they interfere with a person's ability to work and carry on normal activities.
The precise cause of migraines is unknown. Among the suspected causes are environmental triggers, genetic predisposition, dietary triggers, physiological triggers such as menstruation.
An internal or external trigger sets the process in motion. It is possible that the nervous system reacts to the trigger by conducting electrical activity that spreads across the brain. This electrical activity leads to the release of brain chemicals that make blood vessels swell and become leaky. Scientists think that it is this inflammatory process that causes the pain and other symptoms of a migraine headache.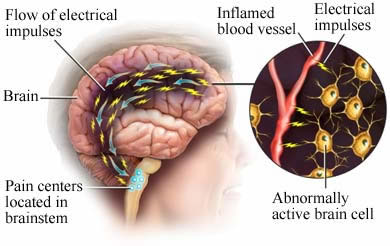 A warning may precede a migraine. In the hours or days before the headache, symptoms may include a change in mood, a change in behavior, a change in the level of activity, fatigue, bloating, tense muscles, yawning, food craving or decreased appetite, nausea, vomiting, diarrhea, sensitivity to sound or light.
Some migraines are preceded by an aura. The most common aura is visual. The aura lasts about 15 - 20 minutes and may produce the following sensations: flashing lights, spots, or zig zag lines; temporary, partial loss of vision; speech difficulties; weakness in an arm or leg; numbness or tingling in the face and hands; restlessness; confusion; dizziness; lightheadedness; speech disturbances; cognitive dysfunction.
Migraine headache typically feels intense, throbbing or pulsating, more severe with movement, nausea or vomiting, sensitivity to light or sound, sore or achy muscles, lightheadedness or dizziness.
Migraines usually last from 4 - 72 hours. After the migraine some people experience food intolerance or cravings, fatigue, sore muscles, trouble concentrating, irritability, restlessness or mood changes.
Migraine therapy aims to prevent headaches, reduce headache severity and frequency, restore your ability to function and improve quality of your life.
Hypnosis for Migraines CD guides you through very effective technique for eliminating headaches and migraines. Subliminal and supraliminal recording deliver suggestions for relief of headaches and migraines directly to your subconscious mind.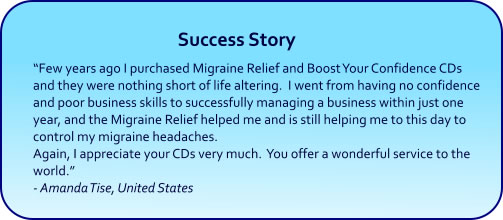 » How to Stop Migraine Pain with Drug-Free Methods for Eliminating Migraines
Migraine Relief
Deep Trance Now Hypnosis CDs and mp3 downloads
» Hypnosis Newsletter and Free Downloads
If you want CDs, click on "add to cart" button.
If you want Instant mp3 Downloads,
click on the blue Instant Download link.

Migraine Relief
Hypnosis
1 CD - $24.95
For INSTANT DOWNLOAD click here
Migraine Relief
Hypnosis with Embedded Subliminal Track
1 CD - $29.95
Migraine Relief
Hypnosis with Embedded Supraliminal Track
1 CD - $34.95
For INSTANT DOWNLOAD click here
Migraine Relief
Subliminal with Audible Intro Suggestions
1 CD - $14.95
For INSTANT DOWNLOAD click here
Migraine Relief
Daytime Silent Subliminal
1 CD - $14.95
Migraine Relief
Nighttime Silent Subliminal Sleep Programming
1 CD - $14.95
For INSTANT DOWNLOAD click here
Migraine Relief
Supraliminal with Audible Intro Suggestions
1 CD - $19.95
For INSTANT DOWNLOAD click here
Migraine Relief
Daytime Silent Supraliminal
1 CD - $19.95
Migraine Relief
Nighttime Silent Supraliminal Sleep Programming
1 CD - $19.95
For INSTANT DOWNLOAD click here
Migraine Relief
Empowering Affirmations
1 CD - $17.95
Migraine Relief
Empowering Affirmations with Embedded Subliminal Track
1 CD - $22.95
Migraine Relief
Empowering Affirmations with Embedded Subliminal and Supraliminal Tracks
1 CD - $27.95
For INSTANT DOWNLOAD click here
Migraine Relief
Supraliminal Plus
1 CD - $24.95
For INSTANT DOWNLOAD click here
Migraine Relief
Brainwave Entrainment
1 CD - $24.95
Migraine Relief
Sanskrit Mantras
1 CD - $24.95
Migraine Relief
Hypnosis + Subliminal
2 CDs - $29.95
For INSTANT DOWNLOAD click here
Migraine Relief
Hypnosis + Supraliminal
2 CDs - $34.95
For INSTANT DOWNLOAD click here
Migraine Relief
Hypnosis + Supraliminal Plus
2 CDs - $39.95
For INSTANT DOWNLOAD click here
Migraine Relief
Hypnosis + Subliminal + Supraliminal Plus
3 CDs - $49.95
For INSTANT DOWNLOAD click here
Migraine Relief
Hypnosis + Supraliminal + Supraliminal Plus
3 CDs - $54.95
For INSTANT DOWNLOAD click here
Migraine Relief
Hypnosis + Subliminal + Supraliminal + Supraliminal Plus
4 CDs - $64.95
Migraine Relief
Hypnosis + Empowering Affirmations + Subliminal + Supraliminal + Supraliminal Plus
5 CDs - $79.95
Migraine Relief
Hypnosis + Empowering Affirmations + Subliminal + Supraliminal + Supraliminal Plus + Brainwave Entrainment
6 CDs - $89.95
Migraine Relief
Hypnosis + Empowering Affirmations + Subliminal + Supraliminal + Supraliminal Plus + Sanskrit Mantras
6 CDs - $89.95
Migraine Relief
Hypnosis + Empowering Affirmations + Subliminal + Supraliminal + Supraliminal Plus + Sanskrit Mantras + Brainwave Entrainment
7 CDs - $108.00