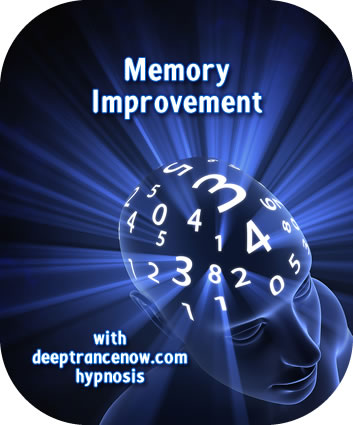 You already have a very good memory. If you think about any events in your life that are truly meaningful for you, my guess is that you have remembered them and recall them very well.
Your subconscious mind remembers everything even those things that have entirely by-passed your conscious awareness. The following programs are designed to help you remember things in a way that will help you to recall them even easier then before.
Deep Trance Now Hypnosis program for Memory Improvement will guide you through different tricks and techniques which will help you to develop better memory and ability to recall the information from your memory bank.
Subliminal and supraliminal programs are designed to impress suggestions for memory improvement directly upon your subconscious mind.
Memory Improvement Deep Trance Now Hypnosis Programs
» Click here to learn more about Different Types of Recordings
» Subscribe to Deep Trance Now Hypnosis Newsletter and listen to Free Downloads
» Click here for information about Mail Order, Shipping or ordering MP3 Downloads
If you want CDs, click on "add to cart" button.
If you want Instant mp3 Downloads,
click on the blue Instant Download link.
» Click here for the listing of all Deep Trance Now hypnosis CDs and mp3 downloads