» Click here for Prophetic Dreaming
» Click here for Lucid Dreaming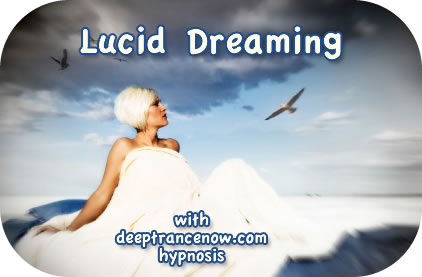 Lucid dreaming enables you to access deeper levels of mind for the purpose of programming your subconscious mind, mastering new skills and abilities, living out your fantasies and exploring different realms of consciousness.
There are two ways of dreaming lucidly - one is maintaining awareness and shifting your consciousness from the outer dimension of experience to the inner dimension of dreams. Here you intentionally induce dream state, pretty much the same way you access deeper levels of mind in hypnosis. However, if you are new to hypnosis and if you don't have any experience with meditation, it may take a while to train your mind to remain alert while you're drifting into sleep.
Another way of inducing lucid dreaming is by allowing yourself to fall asleep and then waking up within a dream, realizing that you are dreaming, that you have shifted into another dimension of experience where everything you can imagine, you can experience instantly, where time and space are no obstacles.
Hypnotic post-suggestions have proven very effective in programming your mind with a dream symbol that will alert you to the fact that you are dreaming - one such symbol may be flying in your dreams.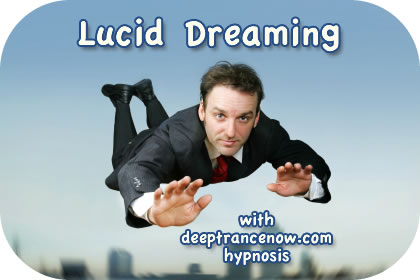 Lucid dreaming hypnosis recording is designed to guide you through both processes - of accessing lucid dreaming consciously and with establishing post-hypnotic suggestion that will alert you that you are dreaming, should you lose awareness and fall asleep half-way to your lucid dreaming. It is also designed to help you to maintain lucidity in your dream, instead of waking up upon realization that you are dreaming.
Lucid dreaming subliminal, supraliminal and supraliminal plus recordings are designed to help you to realize that you are dreaming and to become lucid after you're asleep. The messages on this recording are placed above the level of your conscious awareness and even though you cannot hear them consciously, your subconscious mind, the dreaming part of your mind will hear them and will alert you to the fact that you are dreaming.
Brainwave entrainment recording can also help you to remember that you are lucid dreaming by helping you to become mentally alert after you fall asleep.
After you master the ability to dream lucidly, all that it will take for you to have lucid dreams is intent - decision that you will dream lucidly when you fall asleep and/or if you have mastered the ability to enter deeper levels of mind while remaining mentally alert, you'll be able to simply drift into dream-state and remain lucid while dreaming.
The difference between lucid dreaming and Lucid Dreaming is that during lucid dreaming you become lucid in your dream and you control the content of your dreams, and during Lucid Dreaming you dissolve the dream and continue with Lucid Dreaming, so if you want to proceed to experience of Lucid Dreaming, you can either remember to dissolve the dream, when you become lucid, or get Lucid Dreaming set here.

Lucid Dreaming Deep Trance Now Hypnosis Programs
» Click here to learn more about Different Types of Recordings
» Subscribe to Deep Trance Now Hypnosis Newsletter and listen to Free Downloads
» Click here for information about Mail Order, Shipping or ordering MP3 Downloads
If you want CDs, click on "add to cart" button.
If you want Instant mp3 Downloads,
click on the blue Instant Download link.
Lucid Dreaming
Hypnosis
1 CD - $24.95
For INSTANT DOWNLOAD click here
Lucid Dreaming
Hypnosis with Embedded Subliminal Track
1 CD - $29.95
Lucid Dreaming
Hypnosis with Embedded Supraliminal Track
1 CD - $34.95
Lucid Dreaming
Subliminal with Audible Intro Suggestions
1 CD - $14.95
Lucid Dreaming
Daytime Silent Subliminal
1 CD - $14.95
Lucid Dreaming
Nighttime Silent Subliminal Sleep Programming
1 CD - $14.95
For INSTANT DOWNLOAD click here
Lucid Dreaming
Supraliminal with Audible Intro Suggestions
1 CD - $19.95
Lucid Dreaming
Daytime Silent Supraliminal
1 CD - $19.95
Lucid Dreaming
Nighttime Silent Supraliminal Sleep Programming
1 CD - $19.95
For INSTANT DOWNLOAD click here
Lucid Dreaming
Empowering Affirmations
1 CD - $17.95
Lucid Dreaming
Empowering Affirmations with Embedded Subliminal Track
1 CD - $22.95
Lucid Dreaming
Empowering Affirmations with Embedded Subliminal and Supraliminal Tracks
1 CD - $27.95
Lucid Dreaming
Supraliminal Plus
1 CD - $24.95
For INSTANT DOWNLOAD click here
Lucid Dreaming
Brainwave Entrainment
1 CD - $24.95
Lucid Dreaming
Hypnosis + Subliminal
2 CDs - $29.95
Lucid Dreaming
Hypnosis + Supraliminal
2 CDs - $34.95
Lucid Dreaming
Hypnosis + Supraliminal Plus
2 CDs - $39.95
Lucid Dreaming
Hypnosis + Subliminal + Supraliminal Plus
3 CDs - $49.95
Lucid Dreaming
Hypnosis + Supraliminal + Supraliminal Plus
3 CDs - $54.95
Lucid Dreaming
Hypnosis + Subliminal + Supraliminal + Supraliminal Plus
4 CDs - $64.95
Lucid Dreaming
Hypnosis + Empowering Affirmations + Subliminal + Supraliminal + Supraliminal Plus
5 CDs - $79.95
Lucid Dreaming
Hypnosis + Empowering Affirmations + Subliminal + Supraliminal + Supraliminal Plus + Brainwave Entrainment
6 CDs - $89.95
» Click here for the listing of all Deep Trance Now hypnosis CDs and mp3 downloads