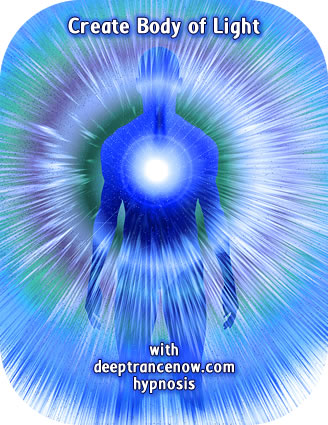 Create Light Body Deep Trance Now Program is designed to assist you in the process of raising the vibration of your body and transmuting it into the Light. In the process that which is mortal transmutes into that which is immortal.
The techniques on this recording are best used in conjunction with your other spiritual practice - particularly cultivating a sense of Oneness and practicing Love. Another helpful recording from this series for the purpose of Creating Light body is Illumination.
Create Light Body Deep Trance Now Hypnosis Programs
» Hypnosis Newsletter and Free Downloads
If you want CDs, click on "add to cart" button.
If you want Instant mp3 Downloads,
click on the blue Instant Download link.

Create Body of Light
Hypnosis
1 CD - $24.95
For INSTANT DOWNLOAD click here
Create Body of Light
Hypnosis with Embedded Subliminal Track
1 CD - $29.95
Create Body of Light
Hypnosis with Embedded Supraliminal Track
1 CD - $34.95
Create Body of Light
Subliminal with Audible Intro Suggestions
1 CD - $14.95
For INSTANT DOWNLOAD click here
Create Body of Light
Daytime Silent Subliminal
1 CD - $14.95
Create Body of Light
Nighttime Silent Subliminal Sleep Programming
1 CD - $14.95
For INSTANT DOWNLOAD click here
Create Body of Light
Supraliminal with Audible Intro Suggestions
1 CD - $19.95
For INSTANT DOWNLOAD click here
Create Body of Light
Daytime Silent Supraliminal
1 CD - $19.95
Create Body of Light
Nighttime Silent Supraliminal Sleep Programming
1 CD - $19.95
For INSTANT DOWNLOAD click here
Create Body of Light
Empowering Affirmations
1 CD - $17.95
Create Body of Light
Empowering Affirmations with Embedded Subliminal Track
1 CD - $22.95
Create Body of Light
Empowering Affirmations with Embedded Subliminal and Supraliminal Tracks
1 CD - $27.95
Create Body of Light
Supraliminal Plus
1 CD - $24.95
For INSTANT DOWNLOAD click here
Create Body of Light
Hypnosis + Subliminal
2 CDs - $29.95
For INSTANT DOWNLOAD click here
Create Body of Light
Hypnosis + Supraliminal
2 CDs - $34.95
For INSTANT DOWNLOAD click here
Create Body of Light
Hypnosis + Supraliminal Plus
2 CDs - $39.95
For INSTANT DOWNLOAD click here
Create Body of Light
Hypnosis + Subliminal + Supraliminal Plus
3 CDs - $49.95
For INSTANT DOWNLOAD click here
Create Body of Light
Hypnosis + Supraliminal + Supraliminal Plus
3 CDs - $54.95
For INSTANT DOWNLOAD click here
Create Body of Light
Hypnosis + Subliminal + Supraliminal + Supraliminal Plus
4 CDs - $64.95
Create Body of Light
Hypnosis + Empowering Affirmations + Subliminal + Supraliminal + Supraliminal Plus
5 CDs - $79.95