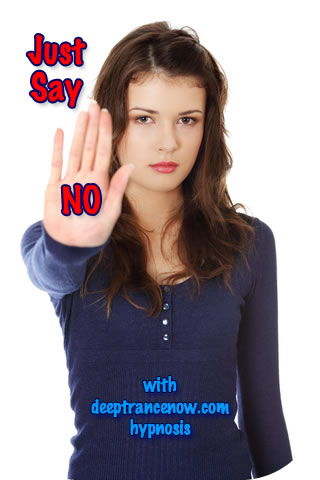 If your find it hard to say "no", Learn to Say No hypnosis CD can help you to say it many different ways, without even using the word "no". Of course sometimes you may want to just say "no". Saying "no" straight out can feel liberating.
Other times you may want to go along with what someone is suggesting, but perhaps it is not the right time for you, or you may want like to take some time to consider the proposal.
Perhaps you don't want to come across as a rude person, or you don't want to burn the bridges, or you don't want to possibly initiate a conflict or argument.
While saying "yes" may seem like an easy way out, it can put you in an awkward situation if you are unable or unwilling to make the particular commitment.
Learn to Say "No" Deep Trance Now Hypnosis Programs
» Click here to learn more about Different Types of Recordings
» Subscribe to Deep Trance Now Hypnosis Newsletter and listen to Free Downloads
» Click here for information about Mail Order, Shipping or ordering MP3 Downloads
If you want CDs, click on "add to cart" button.
If you want Instant mp3 Downloads,
click on the blue Instant Download link.
Learn To Say No
Hypnosis
1 CD - $24.95
Learn To Say No
Hypnosis with Embedded Subliminal Track
1 CD - $29.95
Learn To Say No
Hypnosis with Embedded Supraliminal Track
1 CD - $34.95
Learn To Say No
Subliminal with Audible Intro Suggestions
1 CD - $14.95
Learn To Say No
Daytime Silent Subliminal
1 CD - $14.95
Learn To Say No
Nighttime Silent Subliminal Sleep Programming
1 CD - $14.95
Learn To Say No
Supraliminal with Audible Intro Suggestions
1 CD - $19.95
Learn To Say No
Daytime Silent Supraliminal
1 CD - $19.95
Learn To Say No
Nighttime Silent Supraliminal Sleep Programming
1 CD - $19.95
Learn To Say No
Empowering Affirmations
1 CD - $17.95
Learn To Say No
Empowering Affirmations with Embedded Subliminal Track
1 CD - $22.95
Learn To Say No
Empowering Affirmations with Embedded Subliminal and Supraliminal Tracks
1 CD - $27.95
Learn To Say No
Supraliminal Plus
1 CD - $24.95
For INSTANT DOWNLOAD click here
Learn To Say No
Hypnosis + Subliminal
2 CDs - $29.95
Learn To Say No
Hypnosis + Supraliminal
2 CDs - $34.95
Learn To Say No
Hypnosis + Supraliminal Plus
2 CDs - $39.95
Learn To Say No
Hypnosis + Subliminal + Supraliminal Plus
3 CDs - $49.95
Learn To Say No
Hypnosis + Supraliminal + Supraliminal Plus
3 CDs - $54.95
Learn To Say No
Hypnosis + Subliminal + Supraliminal + Supraliminal Plus
4 CDs - $64.95
Learn To Say No
Hypnosis + Empowering Affirmations + Subliminal + Supraliminal + Supraliminal Plus
5 CDs - $79.95
» Click here for the listing of all Deep Trance Now hypnosis CDs and mp3 downloads