You can learn a foreign language naturally, easily, rapidly using the power of your subconscious mind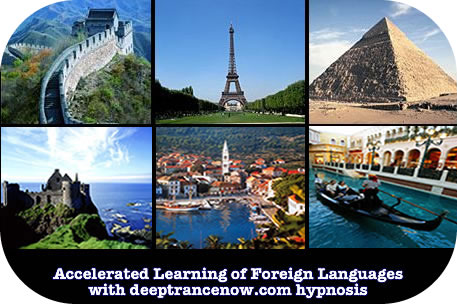 Learning a foreign language increases your career opportunities. You can get more interesting jobs and make more money.
Learning a foreign language has a positive effect on your intellectual growth. You will be perceived as more intelligent. You will also get to exercise your brain cells and prolong the healthy functioning of your brain.
Learning a foreign language will help you to expand your social opportunities. Speaking different languages and being familiar with different cultural customs will help you to expand your circle of personal and business contacts, and as a result you may be invited to, and feel more comfortable while attending wide variety of social and business functions.
Learning a foreign language will help you to have more fun when traveling to different countries. People will treat you better and you will have your needs met more appropriately because you will be able to communicate what you need. This can be a lifesaver if you ever have a medical emergency in a foreign country.
People who seem to have a talent for learning foreign languages and who learn foreign languages easily, use consciously or unconsciously, a specific strategy.
Accelerated learning of foreign languages hypnosis recording guides you through that strategy that will enable you to master the ability to communicate in any language you desire to learn easily.
Accelerated learning of foreign languages subliminal, supraliminal and supraliminal plus recordings contain supporting suggestions designed to help you to easily absorb the language you are learning.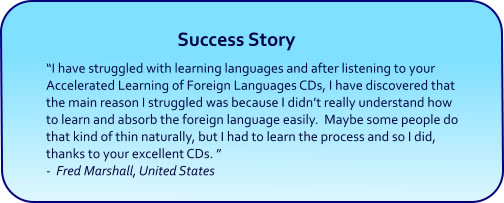 Accelerated Learning of Foreign Languages Deep Trance Now Hypnosis Programs
» Hypnosis Newsletter and Free Downloads
If you want CDs, click on "add to cart" button.
If you want Instant mp3 Downloads,
click on the blue Instant Download link.
»Click here for Review of Different Language Learning Programs