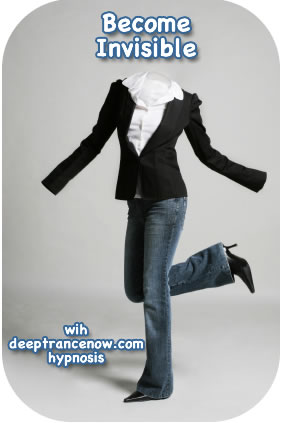 Wouldn't it be nice sometimes to be able to disappear at will?Imagine what you could do if other people were unable to see you...Walk into a room undetected, listen to other people's conversation, and engage in many other ethical and unethical activities.Those potentially unethical activities are one of the reasons why these techniques were kept secret.
People who are quiet by nature may have had more spontaneous experiences of invisibility - without investing any additional effort. Some of them may have even wished at times to be more visible. Whether you're more introverted or extroverted by nature, you can master the art of manipulating your energy and be noticed or unnoticed as may serve your needs at the time.
Perhaps you too can remember some time in your life when you very much wanted someone to avoid you, to by-pass you, act as if you were not there. Maybe you even silently prayer "oh, God, please not now", maybe even silently telling to that person you wanted to skip saying hello that day "oh, please go away, just go away" and the person went away. And if you has such experiences, maybe you thought it was just an accident, a coincidence, you were lucky and it never crossed your mind that your thoughts are very powerful and that you really can influence how other people perceive you and whether they see you or they don't.
Some fun I had with invisibility techniques
Originally, I was using invisibility techniques even while attending school - when I didn't want teachers to ask me questions. And perhaps, you, too have some such fond memories.
As an adventurous and at times rebellious teenager sometimes I didn't want to purchase bus tickets.At one such time my mother was with me, and she began to sweat when the controller walked in and started checking everyone's tickets.I simply used one of the invisibility techniques and the controller completely ignored me as if I weren't there.I don't consider this ethical now and do not recommend using invisibility techniques for this purpose. However, it was an awesome learning experience.
There were times when I worked in the office or at the casino and needed a break.I'd use one of the the invisibility techniques and even though all the tables around me were crowded, no one would come to my table - as if it weren't there.
Sometimes I'd be in a room full of people and sometimes just for the fun of it, other times for some specific reason, I'd use one of the invisibility techniques and pass by unnoticed.It would be really interesting when I'd be sitting on a couch and someone would be looking for me and couldn't see me.
About Deep Trance Invisibility Program and the Seven Invisibility Techniques
The Hypnosis CD in the invisibility set contains SEVEN DIFFERENT INVISIBILITY TECHNIQUES. The first five techniques will help you to become unnoticed, ignored, left alone and at peace to mind your own business, while the last two techniques will teach you how to experience actual invisibility.
With he first few techniques, you may experience instant results, other techniques will require more commitment and practice.
All techniques involve manipulation of your own energy and other people's perception to a certain degree. They range from changing your energy field and merging with the environment, to altering other people's perception through transfer of consciousness, to building walls around you from universal substance (astral or etheric matter - whatever term you may prefer).
Invisibility subliminal, supraliminal and supraliminal plus contain supporting suggestions designed to reinforce the practice with hypnosis recording. In order to learn the techniques, you have to use hypnosis recording. You can speed up your results with subliminal, supraliminal, and supraliminal plus recordings.

Invisibility Deep Trance Now Hypnosis Programs
» Click here to learn more about Different Types of Recordings
» Subscribe to Deep Trance Now Hypnosis Newsletter and listen to Free Downloads
» Click here for information about Mail Order, Shipping or ordering MP3 Downloads
If you want CDs, click on "add to cart" button.
If you want Instant Downloads,
click on the blue Instant Download link.
Invisibility
Hypnosis
1 CD - $24.95
For INSTANT DOWNLOAD click here
Invisibility
Hypnosis with Embedded Subliminal Track
1 CD - $29.95
Invisibility
Hypnosis with Embedded Supraliminal Track
1 CD - $34.95
Invisibility
Subliminal with Audible Intro Suggestions
1 CD - $14.95
For INSTANT DOWNLOAD click here
Invisibility
Daytime Silent Subliminal
1 CD - $14.95
Invisibility
Nighttime Silent Subliminal Sleep Programming
1 CD - $14.95
Invisibility
Supraliminal with Audible Intro Suggestions
1 CD - $19.95
For INSTANT DOWNLOAD click here
Invisibility
Daytime Silent Supraliminal
1 CD - $19.95
Invisibility
Nighttime Silent Supraliminal Sleep Programming
1 CD - $19.95
Invisibility
Empowering Affirmations
1 CD - $17.95
For INSTANT DOWNLOAD click here
Invisibility
Empowering Affirmations with Embedded Subliminal Track
1 CD - $22.95
Invisibility
Empowering Affirmations with Embedded Subliminal and Supraliminal Tracks
1 CD - $27.95
Invisibility
Supraliminal Plus
1 CD - $24.95
For INSTANT DOWNLOAD click here
Invisibility
Hypnosis + Subliminal
2 CDs - $29.95
Invisibility
Hypnosis + Supraliminal
2 CDs - $34.95
Invisibility
Hypnosis + Supraliminal Plus
2 CDs - $39.95
Invisibility
Hypnosis + Subliminal + Supraliminal Plus
3 CDs - $49.95
Invisibility
Hypnosis + Supraliminal + Supraliminal Plus
3 CDs - $54.95
Invisibility
Hypnosis + Subliminal + Supraliminal + Supraliminal Plus
4 CDs - $64.95
Invisibility
Hypnosis + Empowering Affirmations + Subliminal + Supraliminal + Supraliminal Plus
5 CDs - $79.95
» Click here for the listing of all Deep Trance Now hypnosis CDs and mp3 downloads