"When you find peace within yourself,
you become the kind of person who can live at peace with others."
- Peace Pilgrim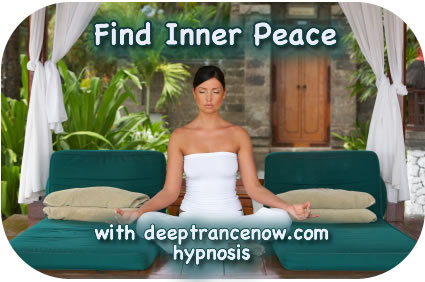 "He who lives in harmony with himself lives in harmony with the universe."
- Marcus Aurelius
True deep inner peace comes from your awareness of and connection to the Infinite Loving Power and Wisdom within you, from knowing that it is the only power, from following your inner guidance, looking upon everything in your world as an expression of this One Loving Power that has your best interests at heart, doing your very best and living your life with integrity.
"As human beings, our greatness lies not so much in being able
to remake the world - that is the myth of the 'atomic age' -
as in being able to remake ourselves."
- Gandhi
It may be comforting to know that whenever any problem arises, the solution for such problem already exists, even if you are not momentarily consciously aware of it. Whenever you are facing a challenge, a problem that is disturbing you in any way, you can give it to your inner wisdom and have it guide you to the perfect solution. Following this inner guidance within you, knowing that it comes from One Infinite Loving Power, from your Greater Self and allowing it to express through you - you can forever enjoy peace no matter what comes your way.
"Peace is not something you wish for;
It's something you make,
Something you do, Something you are,
And something you give away."
- Robert Fulghum
Inner Peace Deep Trance Now
Hypnosis CDs and mp3 downloads
» Click here to learn more about Different Types of Recordings
» Subscribe to Deep Trance Now Hypnosis Newsletter and listen to Free Downloads
» Click here for information about Mail Order, Shipping or ordering MP3 Downloads
If you want CDs, click on "add to cart" button.
If you want Instant mp3 Downloads,
click on the blue Instant Download link.
Find Inner Peace
Hypnosis
1 CD - $24.95
For INSTANT DOWNLOAD click here
Find Inner Peace
Hypnosis with Subliminal Track
1 CD - $29.95
Find Inner Peace
Hypnosis with Supraliminal Track
1 CD - $34.95
Find Inner Peace
Subliminal with Audible Intro Suggestions
1 CD - $14.95
Find Inner Peace
Daytime Silent Subliminal
1 CD - $14.95
Find Inner Peace
Nighttime Silent Subliminal Sleep Programming
1 CD - $14.95
Find Inner Peace
Supraliminal with Audible Intro Suggestions
1 CD - $19.95
Find Inner Peace
Daytime Silent Supraliminal
1 CD - $19.95
Find Inner Peace
Nighttime Silent Supraliminal Sleep Programming
1 CD - $19.95
Find Inner Peace
Empowering Affirmations
1 CD - $17.95
Find Inner Peace
Empowering Affirmations with Embedded Subliminal Track
1 CD - $22.95
Find Inner Peace
Empowering Affirmations with Embedded Subliminal and Supraliminal Tracks
1 CD - $27.95
Find Inner Peace
Supraliminal Plus
1 CD - $24.95
For INSTANT DOWNLOAD click here
Brainwave Entrainment for Deep Meditation
1 CD - $24.95
For INSTANT DOWNLOAD click here
Sanskrit Mantras for Inner Peace
1 CD - $24.95
Find Inner Peace
Hypnosis + Subliminal
2 CDs - $29.95
Find Inner Peace
Hypnosis + Supraliminal
2 CDs - $34.95
Find Inner Peace
Hypnosis + Supraliminal Plus
2 CDs - $39.95
Find Inner Peace
Hypnosis + Subliminal + Supraliminal Plus
3 CDs - $49.95
Find Inner Peace
Hypnosis + Supraliminal + Supraliminal Plus
3 CDs - $54.95
Find Inner Peace
Hypnosis + Subliminal + Supraliminal + Supraliminal Plus
4 CDs - $64.95
Find Inner Peace
Hypnosis + Empowering Affirmations + Subliminal + Supraliminal + Supraliminal Plus
5 CDs - $79.95
Find Inner Peace
Hypnosis + Empowering Affirmations + Subliminal + Supraliminal + Supraliminal Plus + Brainwave Entrainment
6 CDs - $89.95
Find Inner Peace
Hypnosis + Empowering Affirmations + Subliminal + Supraliminal + Supraliminal Plus + Sanskrit Mantras
6 CDs - $89.95
Find Inner Peace
Hypnosis + Empowering Affirmations + Subliminal + Supraliminal + Supraliminal Plus + Sanskrit Mantras + Brainwave Entrainment
7 CDs - $108.00
» Click here for the listing of all Deep Trance Now hypnosis CDs and mp3 downloads