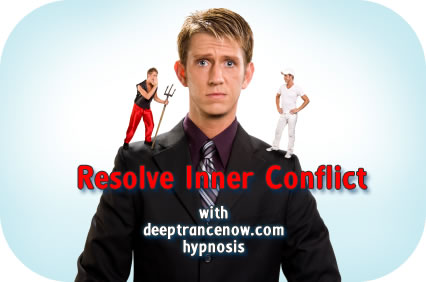 Are you feeling torn between two more more incompatible desires, goals, dreams or directions in life, wondering which one would be better for you and everyone concerned?
Maybe you even feel exhausted shifting from one direction to the other, back and forth, or even paralyzed into inaction and feeling confused and stuck. You may even think that there is no solution to your problem and perhaps none is apparent from where you're standing - but it does exist and it's easy to discover, when you shift the level of looking at the problem.
The insight you need is nowhere else but inside of your mind, it is part of your inner wisdom, and one simple, yet powerful technique will help to trigger it. The hypnosis recording, which you may order below, will guide you through the entire process and you will gain the insight into the solution even after listening to the recording only once.
For now, I'd just like to mention that all conflicting situations, ideas, beliefs, goals and dreams have a common denominator and within this common denominator lies the solution to the problem. In essence, by rising above the problem, you'll find its solution.
At the core of your life-path, and any challenge you can ever face in your life, there is one, unifying idea, an essence that describes your world and what you desire to experience in your life, what your life stands for and what you desire it to stand for. Everything else is merely an outer expression of that one unifying idea. When you know clearly what it is, then all decisions will be easy to make and once you make them you'll know that they are right for you, so you'll also experience a peace of mind.
Resolve Inner Conflict
Deep Trance Now Hypnosis CDs and mp3 downloads
» Hypnosis Newsletter and Free Downloads
If you want CDs, click on "add to cart" button.
If you want Instant mp3 Downloads,
click on the blue Instant Download link.

Resolve Inner Conflict
Hypnosis
1 CD - $24.95
For INSTANT DOWNLOAD click here
Resolve Inner Conflict
Hypnosis with Embedded Subliminal Track
1 CD - $29.95
Resolve Inner Conflict
Hypnosis with Embedded Supraliminal Track
1 CD - $34.95
Resolve Inner Conflict
Subliminal with Audible Intro Suggestions
1 CD - $14.95
Resolve Inner Conflict
Daytime Silent Subliminal
1 CD - $14.95
Resolve Inner Conflict
Nighttime Silent Subliminal Sleep Programming
1 CD - $14.95
Resolve Inner Conflict
Supraliminal with Audible Intro Suggestions
1 CD - $19.95
Resolve Inner Conflict
Daytime Silent Supraliminal
1 CD - $19.95
Resolve Inner Conflict
Nighttime Silent Supraliminal Sleep Programming
1 CD - $19.95
Resolve Inner Conflict
Empowering Affirmations
1 CD - $17.95
Resolve Inner Conflict
Empowering Affirmations with Embedded Subliminal Track
1 CD - $22.95
Resolve Inner Conflict
Empowering Affirmations with Embedded Subliminal and Supraliminal Tracks
1 CD - $27.95
Resolve Inner Conflict
Supraliminal Plus
1 CD - $24.95
For INSTANT DOWNLOAD click here
Resolve Inner Conflict
Hypnosis + Subliminal
2 CDs - $29.95
Resolve Inner Conflict
Hypnosis + Supraliminal
2 CDs - $34.95
Resolve Inner Conflict
Hypnosis + Supraliminal Plus
2 CDs - $39.95
Resolve Inner Conflict
Hypnosis + Subliminal + Supraliminal Plus
3 CDs - $49.95
Resolve Inner Conflict
Hypnosis + Supraliminal + Supraliminal Plus
3 CDs - $54.95
Resolve Inner Conflict
Hypnosis + Subliminal + Supraliminal + Supraliminal Plus
4 CDs - $64.95
Resolve Inner Conflict
Hypnosis + Empowering Affirmations + Subliminal + Supraliminal + Supraliminal Plus
5 CDs - $79.95