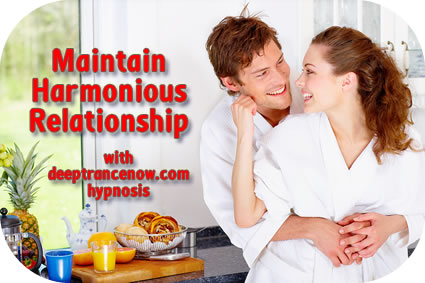 You get attracted, you move in together and eventually you realize that relationship presents you with a challenging learning experience that may leave you feeling exasperated rather than overjoyed.
You may realize that you and your partner come from different backgrounds, that you were taught or used to deal with differences in opinion in different ways - some people may shout, some may withdraw and need a time out to think on their own, some may prefer to discuss the challenges, others may prefer to suffer silently.
You may also realize that you and your partner love and demonstrate love in different ways - that one of you shows love openly, physically or verbally, and other may be silently content without saying or showing anything, unless you look deeply into each other's eyes.
Some differences come with age as people develop different interests or their bodies take them in different direction. Some people enjoy being more physical and may need more physical contact than others.

Marital Relationship Harmony recordings are designed to help you maintain peace, love and harmony in your relationship. When you are in a relationship, there are three energies at work - "me" (what I want), "you" (what you want) and "we" (the purpose for being in a relationship).
Marital Relationship Harmony
Deep Trance Now Hypnosis CDs and mp3 downloads
» Click here to learn more about Different Types of Recordings
» Subscribe to Deep Trance Now Hypnosis Newsletter and listen to Free Downloads
» Click here for information about Mail Order, Shipping or ordering MP3 Downloads
Marital Relationship Harmony Demo
(use stereo headphones or speakers when listening)
If you want CDs, click on "add to cart" button.
If you want Instant mp3 Downloads,
click on the blue Instant Download link.

Marital Relationship Harmony
Hypnosis
1 CD - $24.95
For INSTANT DOWNLOAD click here
Marital Relationship Harmony
Hypnosis with Embedded Subliminal Track
1 CD - $29.95
Marital Relationship Harmony
Hypnosis with Embedded Supraliminal Track
1 CD - $34.95
Marital Relationship Harmony
Subliminal with Audible Intro Suggestions
1 CD - $14.95
For INSTANT DOWNLOAD click here
Marital Relationship Harmony
Daytime Silent Subliminal
1 CD - $14.95
Marital Relationship Harmony
Nighttime Silent Subliminal Sleep Programming
1 CD - $14.95
For INSTANT DOWNLOAD click here
Marital Relationship Harmony
Supraliminal with Audible Intro Suggestions
1 CD - $19.95
For INSTANT DOWNLOAD click here
Marital Relationship Harmony
Daytime Silent Supraliminal
1 CD - $19.95
Marital Relationship Harmony
Nighttime Silent Supraliminal Sleep Programming
1 CD - $19.95
For INSTANT DOWNLOAD click here
Marital Relationship Harmony
Empowering Affirmations
1 CD - $17.95
Marital Relationship Harmony
Empowering Affirmations with Embedded Subliminal Track
1 CD - $22.95
Marital Relationship Harmony
Empowering Affirmations with Embedded Subliminal and Supraliminal Tracks
1 CD - $27.95
For INSTANT DOWNLOAD click here
Marital Relationship Harmony
Supraliminal Plus
1 CD - $24.95
For INSTANT DOWNLOAD click here
Marital Relationship Harmony
Hypnosis + Subliminal
2 CDs - $29.95
Marital Relationship Harmony
Hypnosis + Supraliminal
2 CDs - $34.95
Marital Harmony
Hypnosis + Supraliminal Plus
2 CDs - $39.95
Marital Relationship Harmony
Hypnosis + Subliminal + Supraliminal Plus
3 CDs - $49.95
Marital Relationship Harmony
Hypnosis + Supraliminal + Supraliminal Plus
3 CDs - $54.95
Marital Relationship Harmony
Hypnosis + Subliminal + Supraliminal + Supraliminal Plus
4 CDs - $64.95
Marital Relationship Harmony
Hypnosis + Empowering Affirmations + Subliminal + Supraliminal + Supraliminal Plus
5 CDs - $79.95