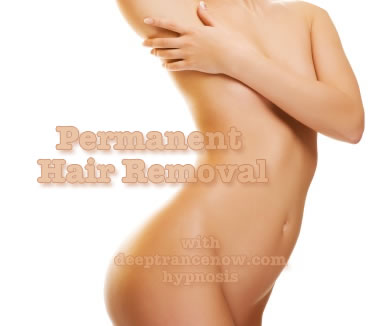 Many people have, with or without hypnosis programs, successfully used self-hypnosis to boost their hair growth. On the other hand, not too many are even aware that they can inhibit the hair growth if they so desire, using their mind power, so I wanted to share the following amusing story as told by M.F. Long:
"While I was living in Honolulu, a young white man came to sell me advertising space in a newspaper each week. He became interested in the Hawaiians and often told me of attending their dinner dances given in the open.
One day he came to me much upset. He had become acquainted with a Hawaiian woman at a dinner party, and the woman had admired his girlishly fine skin. She had asked him thoughtfully if he did not find it a great chore to shave daily, and had solemnly told him that she could make his beard stop growing if he wished to be relieved of the shaving chore. She said that many Hawaiian men had so been relieved of the necessity of shaving. In a tolerant mood he pretended to accept her offer gladly, being certain that it was a native superstition of no consequence.
Taking him aside, the woman stroked his right cheek with her fingers for a short time, saying that the beard would stop growing on his face and that he would be free of the need of shaving.
He had forgotten the incident when, about two weeks later, he suddenly noticed that there was a place on his cheek the size of a dime upon which no beard grew. To his alarm the spot grew larger day by day. When it became as large as a half dollar, he remembered that I had spoken of the kahunas and came rushing to me to ask my advice. He was almost girlish of face and realized that without a shadow of beard he would be disastrously feminine in appearance.
I advised him to inquire among his Hawaiian friends for the woman who had caused the difficulty, and when he found her, to ask her to reverse her suggestion. he had some trouble finding the woman, but did eventually, and she reluctantly stroked his cheek and gave the suggestion that the beard would return to the bare spot. In a little over a week the beard again began to grow in the denuded circle. Where I had found the skin bare, I could see the dark beard stubble reappearing. In a short time the beard was back to normal.
Such control is of great interest inasmuch as it shows how surprisingly the "low self" [Huna term for the "subconscious mind"] can react to suggestion in making changes to bodily functions."

» Click here to read about the process of hair growth
Deep Trance Now Programs for Permanent Hair Removal are designed to help you stop the hair growth on any specific part of your body for as long as you desire it - whether it be for several months, or for the rest of your life.

Subliminal, supraliminal and supraliminal plus recordings contain only direct suggestions and while you may get desired results working only with those recordings, for best and fastest results I recommend that you also work with self-hypnosis recording. It will allow you to focus on the specific parts of your body where you desire to stop the hair growth, to "communicate" with that part of your body, and to program desired changes in your subconscious and in your body - putting the hair follicles in those parts of your body "to sleep".

Permanent Hair Removal
Deep Trance Now Hypnosis CDs and mp3 downloads
» Hypnosis Newsletter and Free Downloads
If you want CDs, click on "add to cart" button.
If you want Instant mp3 Downloads,
click on the blue Instant Download link.

Permanent Hair Removal
Hypnosis
1 CD - $24.95
For INSTANT DOWNLOAD click here
Permanent Hair Removal
Hypnosis with Embedded Subliminal Track
1 CD - $29.95
Permanent Hair Removal
Hypnosis with Embedded Supraliminal Track
1 CD - $34.95
For INSTANT DOWNLOAD click here
Permanent Hair Removal
Subliminal with Audible Intro Suggestions
1 CD - $14.95
For INSTANT DOWNLOAD click here
Permanent Hair Removal
Daytime Silent Subliminal
1 CD - $14.95
Permanent Hair Removal
Nighttime Silent Subliminal Sleep Programming
1 CD - $14.95
For INSTANT DOWNLOAD click here
Permanent Hair Removal
Supraliminal with Audible Intro Suggestions
1 CD - $19.95
For INSTANT DOWNLOAD click here
Permanent Hair Removal
Daytime Silent Supraliminal
1 CD - $19.95
Permanent Hair Removal
Nighttime Silent Supraliminal Sleep Programming
1 CD - $19.95
For INSTANT DOWNLOAD click here
Permanent Hair Removal
Empowering Affirmations
1 CD - $17.95
For INSTANT DOWNLOAD click here
Permanent Hair Removal
Empowering Affirmations with Embedded Subliminal Track
1 CD - $22.95
Permanent Hair Removal
Empowering Affirmations with Embedded Subliminal and Supraliminal Tracks
1 CD - $27.95
For INSTANT DOWNLOAD click here
Permanent Hair Removal
Supraliminal Plus
1 CD - $24.95
For INSTANT DOWNLOAD click here
Permanent Hair Removal
Hypnosis + Subliminal
2 CDs - $29.95
Permanent Hair Removal
Hypnosis + Supraliminal
2 CDs - $34.95
Permanent Hair Removal
Hypnosis + Supraliminal Plus
2 CDs - $39.95
Permanent Hair Removal
Hypnosis + Subliminal + Supraliminal Plus
3 CDs - $49.95
For INSTANT DOWNLOAD click here
Permanent Hair Removal
Hypnosis + Supraliminal + Supraliminal Plus
3 CDs - $54.95
For INSTANT DOWNLOAD click here
Permanent Hair Removal
Hypnosis + Subliminal + Supraliminal + Supraliminal Plus
4 CDs - $64.95
Permanent Hair Removal
Hypnosis + Empowering Affirmations + Subliminal + Supraliminal + Supraliminal Plus
5 CDs - $79.95
For INSTANT DOWNLOAD click here