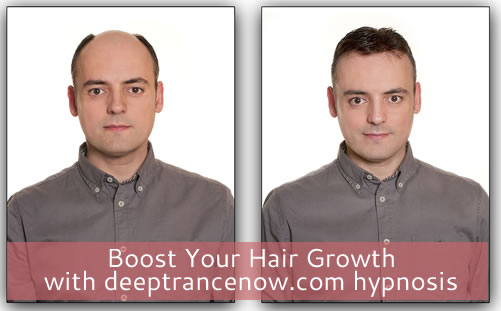 Hair loss can affect not only how you look like, but also how you feel. As the hair falls off, some people begin to experience lower self-esteem. Many people take some time to adapt to their changed appearance. If you are experiencing hair loss, instead of worrying, you could benefit more from taking some positive action to prevent further hair loss and, strengthen the hair follicles and boost the hair growth.
Many reasons may be contributing to the hair loss, from hormonal and seasonal changes, to damaging chemicals and toxic environments, as well as mental and emotional stress. Sometimes simply changing the shampoo and replacing a cheap shampoo with a high quality one may be able to remedy the problem. Sometimes changing nutrition may help. If you are exposed to damaging chemicals and toxic environments, it would greatly benefit you to get away from them, not only for the sake of your hair, but for the sake of your overall health.
If you have been experiencing temporary hair loss, or your hair loss has begun recently, and you have eliminated any offending causes you could think of, then Boost Your Hair Growth set can bring you great results within weeks of working with it.
If you suspect that your hair loss is genetic or you've been experiencing it for a longer time, then you may also want to work with New History Generator hypnosis CDs which can help you to alter your genetic structure, erase the cause of the hair loss from your genetic blueprint, from your DNA,, as if it were never part of your life, as if you always had a luscious hair growth and thus reprogram your mind and body to always enjoy the amazing hair growth for the rest of your life.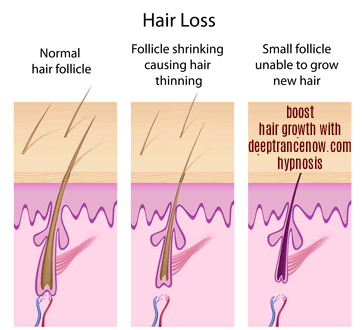 Deep Trance Now Hypnosis Program for Boosting Hair Growth are designed to help you stimulate and awaken the dormant hair follicles, resulting in a luscious hair growth.
Deep Trance Now hypnosis CD guides you through the active mental participation in stimulating the hair follicles and the hair growth on your head.
Deep Trance Now subliminal, supraliminal and supraliminal CDs contain only direct suggestions and while you can get good results working only with those recordings, for best and fastest results I recommend that you also work with Deep Trance Now hypnosis recording.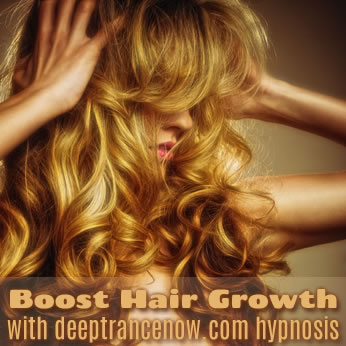 And for even better results, I recommend that you also use Boost Hair Growth Hypno-Aromatic Oil which contains age-old proven ingredients for stimulating the hair follicles and boosting the hair growth.

Boost Your Hair Growth
Deep Trance Now Hypnosis CDs and mp3 downloads
» Click here to learn more about Different Types of Recordings
» Subscribe to Deep Trance Now Hypnosis Newsletter and listen to Free Downloads
» Click here for information about Mail Order, Shipping or ordering MP3 Downloads
Boost Your Hair Growth Supraliminal Plus Demo
(use stereo headphones or speakers when listening)
If you want CDs, click on "add to cart" button.
If you want Instant mp3 Downloads,
click on the blue Instant Download link.

How to listen to Deep Trance Now CDs and mp3s
Boost Your Hair Growth
Hypnosis
1 CD - $24.95
For INSTANT DOWNLOAD click here
Boost Your Hair Growth
Hypnosis with Embedded Supraliminal and Subliminal Tracks
1 CD - $34.95
For INSTANT DOWNLOAD click here
Boost Your Hair Growth
Subliminal with Intro
1 CD - $14.95
For INSTANT DOWNLOAD click here
Boost Your Hair Growth
Daytime Silent Subliminal
1 CD - $14.95
For INSTANT DOWNLOAD click here

Boost Your Hair Growth
Night-time Silent Subliminal Sleep Programming
1 CD - $14.95
For INSTANT DOWNLOAD click here
Boost Your Hair Growth
Supraliminal with Intro
1 CD - $19.95
For INSTANT DOWNLOAD click here
Boost Your Hair Growth
Daytime Silent Supraliminal
1 CD - $19.95
For INSTANT DOWNLOAD click here

Boost Your Hair Growth
Night-time Silent Supraliminal Sleep Programming
1 CD - $19.95
For INSTANT DOWNLOAD click here
Boost Your Hair Growth
Supraliminal Plus
1 CD - $24.95
For INSTANT DOWNLOAD click here
Boost Your Hair Growth
Affirmations with Supraliminal and Subliminal Tracks
1 CD - $27.95
For INSTANT DOWNLOAD click here

Now for Something Different

Boost Your Hair Growth
Totally Silent Supraliminal with Intro
you hear the suggestions once, and then your hear consciously nothing
1 CD - $19.95
For INSTANT DOWNLOAD click here


Boost Your Hair Growth
Totally Silent Supraliminal - consciously you hear nothing
while the suggestions are becoming impressed upon your
subconscoius mind
1 CD - $19.95
For INSTANT DOWNLOAD click here


Boost Your Hair Growth
Hypnosis + Subliminal with Audble Intro
2 CDs - $29.95
For INSTANT DOWNLOAD click here
Boost Your Hair Growth
Hypnosis + Supraliminal with Audlble Intro
2 CDs - $34.95
For INSTANT DOWNLOAD click here
Boost Your Hair Growth
Hypnosis + Supraliminal Plus
2 CDs - $39.95
For INSTANT DOWNLOAD click here
Boost Your Hair Growth
Hypnosis + Subliminal + Supraliminal Plus
3 CDs - 49.95
For INSTANT DOWNLOAD click here
Boost Your Hair Growth
Hypnosis + Supraliminal + Supraliminal Plus
3 CDs - 54.95
For INSTANT DOWNLOAD click here
Boost Your Hair Growth
Hypnosis + Subliminal + Supraliminal Plus
plus 50 ml Boost Hair Growth Hypno-Aromatic Blend
3 CDs + 50 ml hypno-aromatic blend - 69.95 (You

save $19.85

)
Boost Your Hair Growth
Hypnosis + Supraliminal + Supraliminal Plus
plus 50 ml Boost Hair Growth Hypno-Aromatic Blend
3 CDs + 50 ml hypno-aromatic blend - 72.95 (You

save $22.95

)
Boost Your Hair Growth
Hypnosis + Supraliminal + Supraliminal Plus
New History Generator
Hypnosis + Supraliminal + Supraliminal Plus
plus 50 ml Boost Hair Growth Hypno-Aromatic Blend
6 CDs + 50 ml hypno-aromatic blend - 119.95 (You

save $30.90

)

Boost Hair Growth Hypno-Aromatic Blend
120 ml - $24.95

Ingredients: Rosemary, Lavender, Bhringaraj, Neem, Tea Tree Oil, Calamus, Basil, Castor, Coconut, Jojoba

»All Hypnosis CDs and mp3 Titles