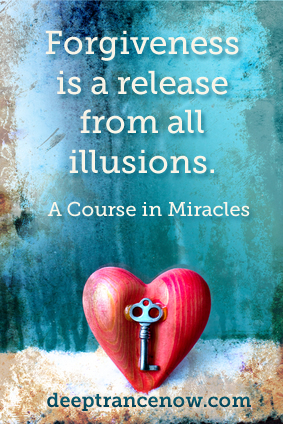 Forgiveness is not about letting other people walk all over you. If you are presently in a situation that is creating an obstacle to your well-being, by all means change it. If you are living with an abusive person - leave. Sticking around people who are mistreating you is asking for trouble. It tells them, with your behavior, that you don't mind the way they are treating you. It encourages their behavior. It gives them a green light to walk all over you with ever greater zest, just to see how far they can go and get away with it. They may not be necessarily bad. They are merely behaving in a way they have learned works the best for them. They may genuinely be doing their best - according to their own understanding and life-experience. They may carry tons of baggage from the past, many unresolved issues and hurt they have experienced in their own lives. You can have compassion for their pain and sometimes you may be able to help them, but you don't have to inherit their baggage and take responsibility for problems that were not yours to solve in the first place. You can only help people who genuinely want to be helped and when they are ready to be helped.
The forgiveness I'm talking about here relates to holding onto hurt and pain that are not currently part of your life. Many people walk through life with feelings of anger or resentment toward their parents or step-parents who abused them verbally and/or physically to varying degrees. There are also situations where someone badly injured or even killed someone close to them. Sometimes someone cheated on them or took something they considered valuable, or a person they loved dearly, left or died, and they feel angry at the person for leaving them.
Whatever happened - there is a time for feeling all sorts of emotions - from pain, anger, resentment to grieving, but then once you've processed the event, the time comes to let it go, because it is not helping you in any way. If there is something you can do to correct the situation in a constructive way, do it. But when there is nothing else you can do, you need to let it go.
By contemplating those hurtful events and holding onto them, you will keep on re-creating more pain and suffering in your present life. Holding onto resentments and other negative feelings toward oneself or another also blocks the energy flow in the body which in time causes malfunction of various organs in the body, resulting in illness.Many people often experience almost instant healing after forgiving themselves and/or others.
There is a good reason that people are advised before they pray or do any kind of change work with hypnosis, they first clear their minds and their hearts of any hurtful feelings, or any resentments, that they first forgive whatever needs to be forgiven and then make their requests. If your mind and heart are filled with unforgiving thoughts toward yourself or others, you are creating an obstacle toward your request being answered, toward realizing your heart's dreams because the stuff out of which everything is created is LOVE and if you want your requests and prayers answered rapidly, you have to allow pure love to flow through you.
Forgiveness Deep Trance Hypnosis Program is designed to help you to change your perception of the events that are holding you back, helping you to release them, helping you to see them through the eyes of love, and compassion - so that you can set yourself free and enjoy your present life.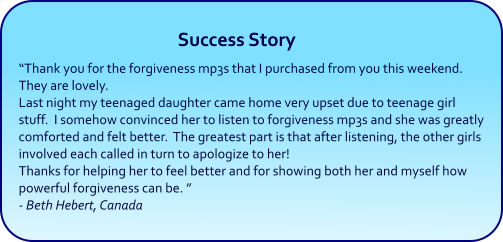 Forgiveness Deep Trance Now Hypnosis Programs
» Hypnosis Newsletter and Free Downloads
Forgiveness Supraliminal Plus Demo
(use stereo headphones when listening)
If you want CDs, click on "add to cart" button.
If you want Instant mp3 Downloads,
click on the blue Instant Download link.