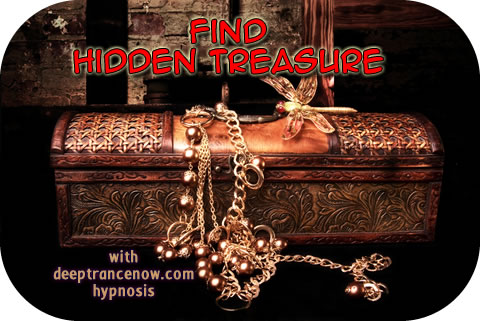 Find Lost Treasures Hypnosis CD guides you through the process of finding out things you may have misplaced or lost. It is most suited when what you have lost or misplaced is nearby or at a walking or driving distance.
I've used the method described on Find Lost Treasures Hypnosis CD for finding even things that other people have misplaced or even hidden and of which I had no conscious knowing where they might be - but nothing is hidden from your subconscious mind and best of all your subconscious can guide your body exactly to where the object or a person is located.
Another two methods for finding lost objects are described on hypnosis CDs for Prophetic Dreaming and Find Hidden Information.
Find Lost Treasures
Deep Trance Now Hypnosis CDs and mp3 downloads
» Hypnosis Newsletter and Free Downloads
If you want CDs, click on "add to cart" button.
If you want Instant mp3 Downloads,
click on the blue Instant Download link.

Find Lost Treasures
Hypnosis
1 CD - $24.95
For INSTANT DOWNLOAD click here
Find Lost Treasures
Hypnosis with Embedded Subliminal Track
1 CD - $29.95
Find Lost Treasures
Hypnosis with Embedded Supraliminal Track
1 CD - $34.95
Find Lost Treasures
Subliminal with Audible Intro Suggestions
1 CD - $14.95
Find Lost Treasures
Daytime Silent Subliminal
1 CD - $14.95
Find Lost Treasures
Nighttime Silent Subliminal Sleep Programming
1 CD - $14.95
Find Lost Treasures
Supraliminal with Audible Intro Suggestions
1 CD - $19.95
Find Lost Treasures
Daytime Silent Supraliminal
1 CD - $19.95
Find Lost Treasures
Nighttime Silent Supraliminal Sleep Programming
1 CD - $19.95
Find Lost Treasures
Empowering Affirmations
1 CD - $17.95
Find Lost Treasures
Empowering Affirmations with Embedded Subliminal Track
1 CD - $22.95
Find Lost Treasures
Empowering Affirmations with Embedded Subliminal and Supraliminal Tracks
1 CD - $27.95
Find Lost Treasures
Supraliminal Plus
1 CD - $24.95
For INSTANT DOWNLOAD click here
Find Lost Treasures
Hypnosis + Subliminal
2 CDs - $29.95
Find Lost Treasures
Hypnosis + Supraliminal
2 CDs - $34.95
Find Lost Treasures
Hypnosis + Supraliminal Plus
2 CDs - $39.95
Find Lost Treasures
Hypnosis + Subliminal + Supraliminal Plus
3 CDs - $49.95
Find Lost Treasures
Hypnosis + Supraliminal + Supraliminal Plus
3 CDs - $54.95
Find Lost Treasures
Hypnosis + Subliminal + Supraliminal + Supraliminal Plus
4 CDs - $64.95
Find Lost Treasures
Hypnosis + Empowering Affirmations + Subliminal + Supraliminal + Supraliminal Plus
5 CDs - $79.95