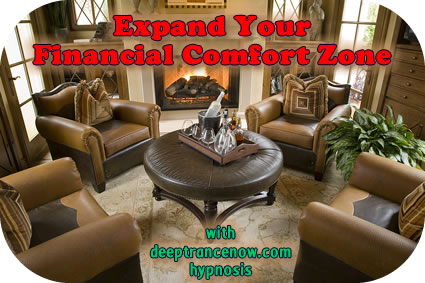 Your financial comfort zone consists essentially of the amount of money you have been accustomed to have come your way on regular basis, the way in which you have been accustomed to get money and the amount of money you have been accustomed to have with you.
Perhaps you have noticed that you have no problem getting money up to a certain amount and through particular channels - people or establishments, but then it's like you've hit the roof and getting anything beyond that amount or making money in some other, perhaps more enjoyable way, seems very hard if not impossible.
This set of CDs is intended to help you expand your comfort zone, to open space within you to receive more money than you have been accustomed to received up to this point and to receive it in any other way you'd like to receive it.
Expand Your Financial Comfort Zone
Deep Trance Now Hypnosis Programs
» Click here to learn more about Different Types of Recordings
» Subscribe to Deep Trance Now Hypnosis Newsletter and listen to Free Downloads
» Click here for information about Mail Order, Shipping or ordering MP3 Downloads
If you want CDs, click on "add to cart" button.
If you want Instant mp3 Downloads,
click on the blue Instant Download link.
Expand Your Financial Comfort Zone
Hypnosis
1 CD - $24.95
For INSTANT DOWNLOAD click here
Expand Your Financial Comfort Zone
Hypnosis with Embedded Subliminal Track
1 CD - $29.95
Expand Your Financial Comfort Zone
Hypnosis with Embedded Supraliminal Track
1 CD - $34.95
Expand Your Financial Comfort Zone
Subliminal with Audible Intro Suggestions
1 CD - $14.95
For INSTANT DOWNLOAD click here
Expand Your Financial Comfort Zone
Daytime Silent Subliminal
1 CD - $14.95
Expand Your Financial Comfort Zone
Nighttime Silent Subliminal Sleep Programming
1 CD - $14.95
For INSTANT DOWNLOAD click here
Expand Your Financial Comfort Zone
Supraliminal with Audible Intro Suggestions
1 CD - $19.95
For INSTANT DOWNLOAD click here
Expand Your Financial Comfort Zone
Daytime Silent Supraliminal
1 CD - $19.95
Expand Your Financial Comfort Zone
Nighttime Silent Supraliminal Sleep Programming
1 CD - $19.95
For INSTANT DOWNLOAD click here
Expand Your Financial Comfort Zone
Empowering Affirmations
1 CD - $17.95
Expand Your Financial Comfort Zone
Empowering Affirmations with Embedded Subliminal Track
1 CD - $22.95
Expand Your Financial Comfort Zone
Empowering Affirmations with Embedded Subliminal and Supraliminal Tracks
1 CD - $27.95
For INSTANT DOWNLOAD click here
Expand Your Financial Comfort Zone
Supraliminal Plus
1 CD - $24.95
For INSTANT DOWNLOAD click here
Sanskrit Mantras for Financial Prosperity
1 CD - $24.95
Expand Your Financial Comfort Zone
Hypnosis + Subliminal
2 CDs - $29.95
For INSTANT DOWNLOAD click here
Expand Your Financial Comfort Zone
Hypnosis + Supraliminal
2 CDs - $34.95
For INSTANT DOWNLOAD click here
Expand Your Financial Comfort Zone
Hypnosis + Supraliminal Plus
2 CDs - $39.95
For INSTANT DOWNLOAD click here
Expand Your Financial Comfort Zone
Hypnosis + Subliminal + Supraliminal Plus
3 CDs - $49.958
For INSTANT DOWNLOAD click here
Expand Your Financial Comfort Zone
Hypnosis + Supraliminal + Supraliminal Plus
3 CDs - $54.95
For INSTANT DOWNLOAD click here
Expand Your Financial Comfort Zone
Hypnosis + Subliminal + Supraliminal + Supraliminal Plus
4 CDs - $64.95
Expand Your Financial Comfort Zone
Hypnosis + Empowering Affirmations + Subliminal + Supraliminal + Supraliminal Plus
5 CDs - $79.95
Expand Your Financial Comfort Zone
Hypnosis + Empowering Affirmations + Subliminal + Supraliminal + Supraliminal Plus + Sanskrit Mantras
6 CDs - $89.95
» You may also like other CDs from the Financial Wealth collection
» Click here for the listing of all Deep Trance Now hypnosis CDs and mp3 downloads