Develop Dynamic Strength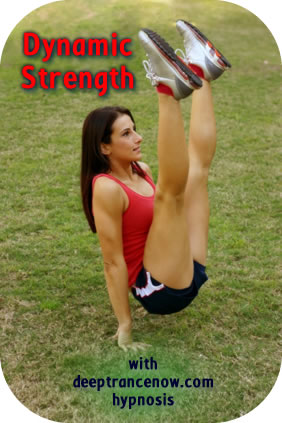 Dynamic Strength Sports Hypnosis CD guides you through a form of mental chi kung (qigong) practice during which you will learn how to generate and absorb universal energy (chi), and then project the energy you need for dynamic strength during your sports activity. Subliminal and supraliminal CDs contain suggestions designed to open you up to infinite source of energy and to assist you to accumulate this energy so that you can use it when you need it.
Dynamic Strength Deep Trance Now Hypnosis Programs
» Click here to learn more about Different Types of Recordings
» Subscribe to Deep Trance Now Hypnosis Newsletter and listen to Free Downloads
» Click here for information about Mail Order, Shipping or ordering MP3 Downloads
If you want CDs, click on "add to cart" button.
If you want Instant mp3 Downloads,
click on the blue Instant Download link.
Dynamic Strength
Hypnosis
1 CD - $24.95
For INSTANT DOWNLOAD click here
Dynamic Strength
Hypnosis with Embedded Subliminal Track
1 CD - $29.95
Dynamic Strength
Hypnosis with Embedded Supraliminal Track
1 CD - $34.95
Dynamic Strength
Subliminal with Audible Intro Suggestions
1 CD - $14.95
Dynamic Strength
Daytime Silent Subliminal
1 CD - $14.95
Dynamic Strength
Nighttime Silent Subliminal Sleep Programming
1 CD - $14.95
Dynamic Strength
Supraliminal with Audible Intro Suggestions
1 CD - $19.95
Dynamic Strength
Daytime Silent Supraliminal
1 CD - $19.95
Dynamic Strength
Nighttime Silent Supraliminal Sleep Programming
1 CD - $19.95
Dynamic Strength
Empowering Affirmations
1 CD - $17.95
Dynamic Strength
Empowering Affirmations with Embedded Subliminal Track
1 CD - $22.95
Dynamic Strength
Empowering Affirmations with Embedded Subliminal and Supraliminal Tracks
1 CD - $27.95
Dynamic Strength
Supraliminal Plus
1 CD - $24.95
For INSTANT DOWNLOAD click here
Brainwave Entrainment to Pump You Up With Energy
1 CD - $24.95
Sanskrit Mantras for Strength and Endurance
1 CD - $24.95
Dynamic Strength
Hypnosis + Subliminal
2 CDs - $29.95
Dynamic Strength
Hypnosis + Supraliminal
2 CDs - $34.95
Dynamic Strength
Hypnosis + Supraliminal Plus
2 CDs - $39.95
Dynamic Strength
Hypnosis + Subliminal + Supraliminal Plus
3 CDs - $49.95
Dynamic Strength
Hypnosis + Supraliminal + Supraliminal Plus
3 CDs - $54.95
Dynamic Strength
Hypnosis + Subliminal + Supraliminal + Supraliminal Plus
4 CDs - $64.95
Dynamic Strength
Hypnosis + Empowering Affirmations + Subliminal + Supraliminal + Supraliminal Plus
5 CDs - $79.95
Dynamic Strength
Hypnosis + Empowering Affirmations + Subliminal + Supraliminal + Supraliminal Plus + Brainwave Entrainment
6 CDs - $89.95
Dynamic Strength
Hypnosis + Empowering Affirmations + Subliminal + Supraliminal + Supraliminal Plus + Sanskrit Mantras
6 CDs - $89.95
Dynamic Strength
Hypnosis + Empowering Affirmations + Subliminal + Supraliminal + Supraliminal Plus + Sanskrit Mantras + Brainwave Entrainment
7 CDs - $108.00
» Click here for the listing of all Deep Trance Now hypnosis CDs and mp3 downloads