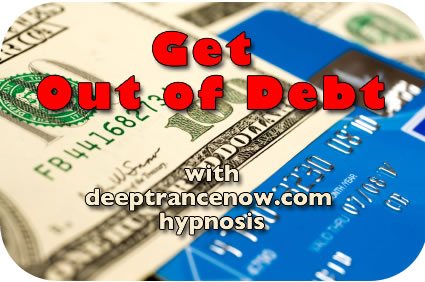 Are you drowning in debt?
Many people are, partly due to over-spending, partly due to lack of income, and in times of recession, financial problems only seem to get worse for most people. Some lose jobs, some are afraid of losing jobs and being unable to take care of their families. It can be terrifying having bills piling up and not having any idea how to pay them. It can be heart-breaking wondering how will you be able to provide even the basic necessities for your children. Some people get mentally paralyzed, as unable to see any way out, they become fixated on the problem. Get Out of Debt CDs are designed to help you focus on the solution. Remember that we all get answers to the questions we ask, and we attract solutions to our problems when we focus and expect to find solutions.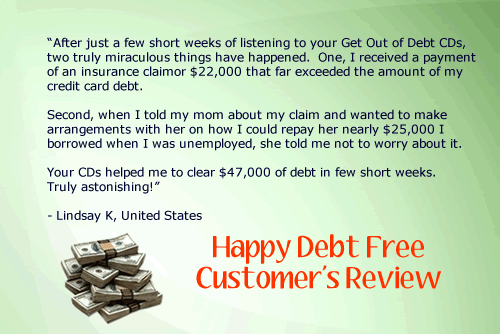 Get Out of Debt Hypnosis CD is designed for such times when you truly need a miracle to rescue you from the financial mess you got yourself into. You've done all you could first to get into a financial mess and then to try to get out of it and now there is truly nothing else you can do, but ask for a miracle to happen. This recording is created just for that purpose.
What will happen when you work with this recording? Either the opportunities will appear in your life enabling you to get out of the financial mess, or if there's absolutely nothing more that you can do, and you are genuinely willing to do whatever it takes - your debts may become just magically wiped out. I've experienced both.
Subliminal, supraliminal, and supraliminal plus recordings are designed to impress suggestions which will help you to get out of debt, directly upon your subconscious mind. And while many people have accomplished great results working with supraliminal plus recordings alone, for best and fastest results, I recommend that you work with hypnosis recording once a day, with supraliminal plus recording once a day, and then for most rapid resolution, have subliminal or supraliminal recording playing in the background throughout the day, and even throughout the night while you are sleeping, if it doesn't disturb your sleep.
Also, if you like working with mantras, the recording Overcome Financial Difficulties with Sanskrit mantras contains several mantras which you can listen to or repeat throughout the day - you can work with one mantra or with all of them. When working with any kind of recordings you should work with them UNTIL you get the desired results, however it is recommended that you work with recordings at least for 40 days, even if you begin to experience instant results, so that the positive suggestions and vibrations of financial abundance can become solidified in your subconscious mind.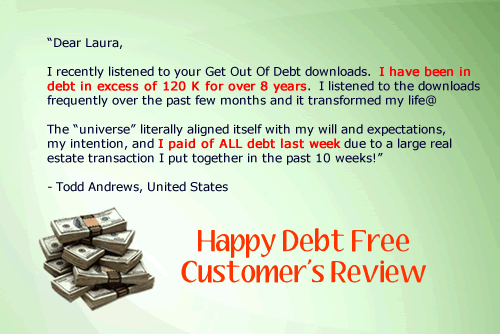 » You may also like other CDs from the Financial Wealth collection
Get Out of Debt Deep Trance Now Hypnosis Programs
» Hypnosis Newsletter and Free Downloads
If you want CDs, click on "add to cart" button.
If you want Instant mp3 Downloads,
click on the blue Instant Download link.