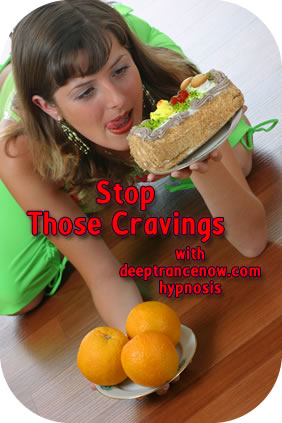 You already have a good idea about what you should be eating, but you're having a hard time dealing with those cravings. This set of CDs is designed to help you to develop liking for the food that will help you to maintain good health and not care less for the junk and fattening food.
Stop Those Cravings
Deep Trance Now Hypnosis Programs
» Click here to learn more about Different Types of Recordings
» Subscribe to Deep Trance Now Hypnosis Newsletter and listen to Free Downloads
» Click here for information about Mail Order, Shipping or ordering MP3 Downloads
If you want CDs, click on "add to cart" button.
If you want Instant mp3 Downloads,
click on the blue Instant Download link.
Stop Those Cravings
Hypnosis
1 CD - $24.95
For INSTANT DOWNLOAD click here
Stop Those Cravings
Hypnosis with Embedded Subliminal Track
1 CD - $29.95
Stop Those Cravings
Hypnosis with Embedded Supraliminal Track
1 CD - $34.95
Stop Those Cravings
Subliminal with Audible Intro Suggestions
1 CD - $14.95
For INSTANT DOWNLOAD click here
Stop Those Cravings
Daytime Silent Subliminal
1 CD - $14.95
Stop Those Cravings
Nighttime Silent Subliminal Sleep Programming
1 CD - $14.95
Stop Those Cravings
Supraliminal with Audible Intro Suggestions
1 CD - $19.95
For INSTANT DOWNLOAD click here
Stop Those Cravings
Daytime Silent Supraliminal
1 CD - $19.95
Stop Those Cravings
Nighttime Silent Supraliminal Sleep Programming
1 CD - $19.95
Stop Those Cravings
Empowering Affirmations
1 CD - $17.95
Stop Those Cravings
Empowering Affirmations with Embedded Subliminal Track
1 CD - $22.95
Stop Those Cravings
Empowering Affirmations with Embedded Subliminal and Supraliminal Tracks
1 CD - $27.95
Stop Those Cravings
Supraliminal Plus
1 CD - $24.95
For INSTANT DOWNLOAD click here
Stop Those Cravings
Hypnosis + Subliminal
2 CDs - $29.95
Stop Those Cravings
Hypnosis + Supraliminal
2 CDs - $34.95
Stop Those Cravings
Hypnosis + Supraliminal Plus
2 CDs - $39.95
Stop Those Cravings
Hypnosis + Subliminal + Supraliminal Plus
3 CDs - $49.95
Stop Those Cravings
Hypnosis + Supraliminal + Supraliminal Plus
3 CDs - $54.95
Stop Those Cravings
Hypnosis + Subliminal + Supraliminal + Supraliminal Plus
4 CDs - $64.95
Stop Those Cravings
Hypnosis + Empowering Affirmations + Subliminal + Supraliminal + Supraliminal Plus
5 CDs - $79.95
» Click here for the listing of all Deep Trance Now hypnosis CDs and mp3 downloads