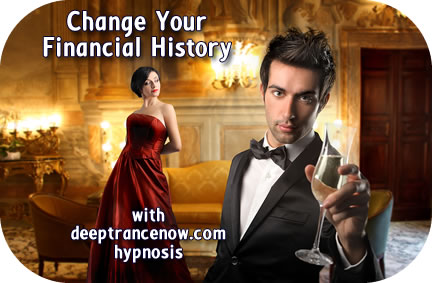 Have you been sabotaging your financial success
perhaps unconsciously?
If you grew up conditioned to believe that there is always shortage of money, if you grew up believing there is only so much money you can have, if you grew up used to always struggle trying to make ends meet financially, Change Your Financial History CDs can help you to change the imprints that caused you to develop limiting beliefs about money and to re-condition yourself mentally, emotionally, energetically and allow yourself to always have all the money you need, to allow yourself to be able to meet all of your financial needs easiy, to allow yourelf to enjoy greater financial abundance and live a financially comfortable life.
Change Your Financial History hypnosis recording guides you through the process that will help you to re-wire your neurology and reprogram your relationship with money.
Change Your Financial History, subliminal, supraliminal and supraliminal plus recordings contain supporting suggestions that will help you to reinforce the work you did with hypnosis recording.
For best results you should listen to hypnosis recording once a day, and then whenever possible have subliminal, supraliminal and/or supraliminal plus recordings playing in the background until your financial situation has changed to your satisfaction.
Change Your Financial History
Deep Trance Now Hypnosis Programs
» Click here to learn more about Different Types of Recordings
» Subscribe to Deep Trance Now Hypnosis Newsletter and listen to Free Downloads
» Click here for information about Mail Order, Shipping or ordering MP3 Downloads
If you want CDs, click on "add to cart" button.
If you want Instant mp3 Downloads,
click on the blue Instant Download link.
» You may also like other CDs from the Financial Wealth collection
» Click here for the listing of all Deep Trance Now hypnosis CDs and mp3 downloads