Deep Trance Now Hypno-aromatic blends contain aromatic plant essences from flowers, fruits, spices, resins, and trees. Hypno-aromatic blends exert psychological and physiological effect. They are absorbed in the body transdermally, through the skin, as well as through the sense of smell.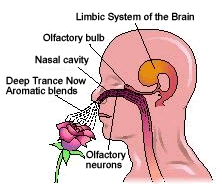 When inhaled, the molecules from the aromatic blend send signals through the olfactory tract to different parts of the brain such as olfactory cortex, hippocampus, amygdala, and hypothalamus. Many of these brain areas are part of the limbic system. The limbic system is involved with emotional behavior and memory. That's why when we smell something, it often brings back memories associated with the object. This is also the reason why aromatic blends can be successuflly used for anchoring desired states of mind.
Deep Healing blends have also profund physiological affect. Absorbed through the skin, they boost the immune system, and stimulate the body's natural defences to prevent or eliminate infections, reduce pain, accelerate healing and a general sense of wellbeing, in a natural way.
Interesting Aromatherapy and EEG discoveries
EEG tests of the brain rhythm patterns found that neroli, jasmine and rose induced delta rhythms, with some inducing a combination of delta and theta rhythms. (To learn more about EEG, you can visit brainwave entrainment page). Delta and theta rhythms are associated with reducing mental chatter and allowing for more intuitive thought processes.
EEG tests used to evaluate stimulant essential oils such as black pepper, cardamom, and rosemary indicated that they induced beta brainwave rhythms. Beta brainwave rhythms correlate with aroused attention and alertness. Some oils like rosemary, are both tonics and stimulants. Rosemary produces a feeling of mental clarity and aids in mental capacity.
General Hypnoaromatic blends
Extra shipping charge may be required when ordering hypno-aromatic blends
| | |
| --- | --- |
| » add $5 if shipped within North America | |
| » add $10 if shipped outside of North America | |
Botanical Blends on this page are 100% natural. Each blend is created out of therapeutic grade essential oils in a base of one or more of the following vegetable carrier oils - almond, sesame, jojoba, coconut, grapeseed, green tea, hemp, avocado, macadamia, wheatgerm, apricot kernel, black cherry and carrot oils. The oils are intended for external use only. The oils contain no preservatives and they will last longer if you keep them in a cool dark place.

Each oil in this section is US $24.95

»

Deep Relaxation


Lavender, Geranium and other essential oils


»

Stress Relief


Lavender, Ylang ylang, and other essential oils


»

Deep Restful Sleep


Lavender, Marjoram


Deep Healing Hypnoaromatic blends
Each oil in this section is US $24.95
»

Immune System


Cinnamon, Cloves, Ginger, Cardamom, Thyme, Oregano

»

4 Thieves Oil - to Fight Viruses and Infections


Cinnamon, Cloves, Eucalyptus, Rosemary, Lemon, Lemongrass, Ravensara, Lavender, Tea Tree Oil

»

Sinus Headache Relief


Rosemary, Eucalyptus, Lavender, Peppermint

»

Headache Relief


Rosemary, Pine, Eucalyptus

»

Tension Headache Relief


Rosemary, Lavender, Juniper

»

Respiratory Infection


Tea tree, Lavender, Ravensara, Niauli

»

Expectorant (Mucolytic)


Eucalyptus, Thyme

»

Back Pain Relief


Pine Scotch, Birch, Black Spruce,

»

Arthritis Relief Warming Blend


Cinnamon, Cloves, Ginger, Nutmeg,

»

Anti-viral for Herpes / Shingles / Cold Sore


Ravensara, Melissa, Lemongrass, Lavender, Geranium, Tea Tree

»

Human Papilloma Virus - HPV


Thuja

»Relief From Constipation
Marjoram, Rosemary, Fennel, Black Pepper

»

Relief From Stomach Cramps


Chamomile, Angelica, Cardamom

»

Stimulate Digestion and Ease Stomach Tension


Tarragon, Clary Sage, Caraway

»

Irritable Bowel Syndrome


Fennel, Peppermint, Cinnamon, Aniseseed, Cardamom

»Psoriasis
German Chamomile, Helichrysum, Rosemary, Hazelnut, Rosehip

Hypnoaromatic blends for Mental and Emotional Wellbeing
Each oil in this section is US $24.95
»

Happiness


Bulgarian Rose and Geranium essential oils

»

Boost Self-Confidence


Clary Sage

»

Recover from Grief


Cypress

»

Feel Safe and Protected


Frankincense

Hypnoaromatic blends for Accelerated Learning
Each oil in this section is US $24.95
»

Accelerated Learning


Rosemary, Calamus

»

Focus and Concentration


Lemon, Calamus

Hypnoaromatic blends for Physical Image Enhancement
Each oil in this section is US $24.95
»

Cellulite Reduction / Weight Loss Support


Juniper, Cypress, Rosemary, Fennel, Birch, Neroli, Grapefruit, Lemon, Ginger, Bay Laurel, Carrot Seed,

» Rejuvenating
Frankincense, Rose, Myrrh, Sandalwood, Rosa Mosqueta

»

Boost Your Hair Growth


Rosemary, Lavander, Bhringaraj, Basil, Neem, Tea Tree, Calamus, Castor, Coconut, Jojoba

Hypnoaromatic blends for Seduction, Sexual Attraction and Relationships
Each oil in this section is US $24.95
Hypnoaromatic blends for Sexual Health and Sexual Enhancement for Men
Each oil in this section is US $24.95
Hypnoaromatic blends for Sexual Health and Sexual Enhancement for Women
Each oil in this section is US $24.95
» Breastfeeding - Increase Milk Flow
Fenugreek, Fennel, Anise


»

PMS Relief


Angelica, Chamomile, Clary Sage

»

Breast Enlargement


Fennel, Anise, Geranium

Esoteric - Metaphysical
Hypnoaromatic blends
Each oil in this section is US $24.95
» Meditation
Labdanum, Frankincense


» Spirit Releasement - Depossession
Frankincense, Peppermind, Clove, Pine


»

Develop Your Intuition


Clary Sage, Lavender

»

Prophetic Dreaming


Lavender, Labdanum

»

Astral Projection


Clary Sage, Marjoram

»Lucid Dreaming
Clary Sage, Labdanum

Magickal Blends
The oils in this section are used for annointing yourself or dressing the candles or magickal objects. These are genuine magickal oil blends, made out of natural ingredients, unlike most commercial magickal oils, which are made out of synthetic ingredients.
You can put these oils on the palm of your hands and massage them into your temples and the third-eye-area just before working with related hypnosis recordings. If you are working with candles, you can also use them to dress the candles.
These aromatic magickal blends are designed to help you to enter into an optimal state of mind for accomplishing your goals, as well as to engage the power of your subconscious mind with greater impact.
In esoteric traditions where everything in the world is viewed as being made out of living energies, using the genuine plant essences also engages plant spirits to help you to reach your desired outcomes.
Please note that due to weight and bulkiness, additional shipping charge may apply, if the total of your order is under US$50. Make sure that you have a working email address, if I need to contact you regarding your order.
Each oil in this section is US $14.95
| | |
| --- | --- |
| » Abramelin - Holy Annointing Oil | |
| » Attract Love Oil | |
| » Blessing Oil | |
| » Celibacy Oil | |
| » Courage Oil | |
| » Energy Oil | |
| » Fast Luck Oil | |
| » Fast Money Oil | |
| » Love Drawing Oil | |
| » Lucky Gambler Oil | |
| » Lust Oil | |
| » Interview Oil | |
| » Money Drawing Oil | |
| » Peace Oil | |
| » Power Oil | |
| » Protection Oil | |
| » Psychic Oil | |
| » Psychic Defense Oil | |
| » Purificaton Oil | |
| » Rejuvenation Oil | |
| » Sexual Energy Oil | |
| » Sleep Oil | |
| » Spiritual Oil | |
| » Van Van Oil | |
| » Visions Oil | |